Flex Power Modules leverages O-RAN to grow presence in RFPA market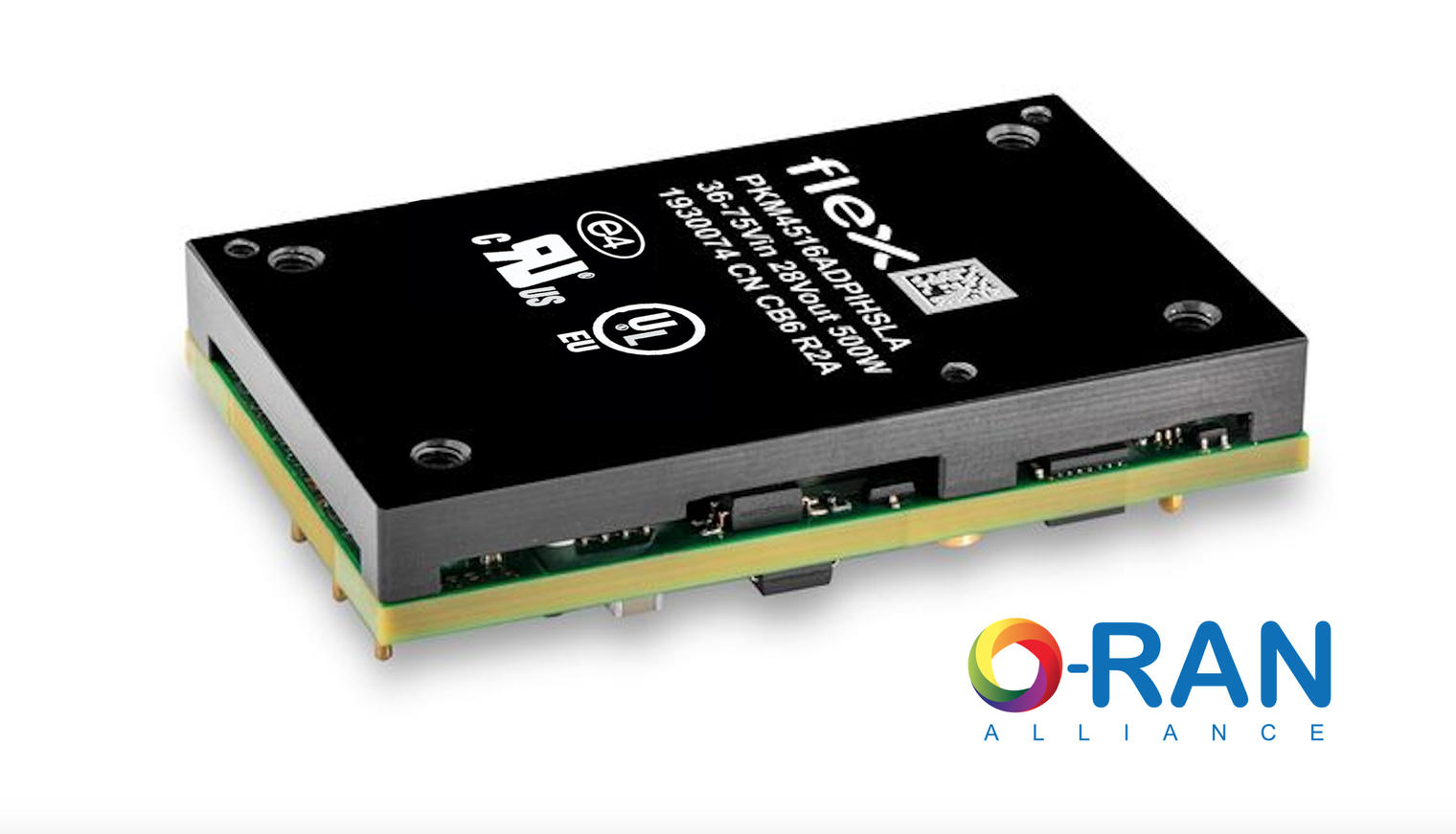 In line with the world's rapidly advancing 5G cellular wireless networks, Flex Power Modules is working closely with both OpenRAN, and O-RAN Alliance – a global community of more than 160 mobile operators, vendors, and research and academic institutions operating in the Radio Access Network (RAN) industry. By doing so it is growing its presence in the associated RFPA (radio frequency power amplifier) market, and broadening its range of isolated DC/DC converters for RFPA applications.
With an ever-increasing number of countries and network operators introducing 5G services, there is huge demand to improve the efficiency of RFPAs. According to the Institute of Electrical and Electronics Engineers (IEEE), existing LTE (4G) RFPA solutions are not suitable for operation in the 5G range due to frequency incompatibility and, therefore, will not achieve high efficiency if use continues.
To overcome the challenges of creating RFPAs that are able to balance higher power with greater efficiency, designers can exploit the benefits of DC/DC conversion technologies. In fact, the latest DC/DC converter solutions from Flex Power Modules are already underpinning significant advances in RFPA efficiencies, helping to boost the overall energy performance of base stations.
Prominent among the offer is the PKM-D series of fully regulated analog DC/DC converters, the most recent additions to which are the PKM4516AD and PKM4516HD. Both are supplied in industry standard quarter-brick format, with output up to 18A/504W using the 28 V nominal PKM4516AD, and up to 10A/500W with the 50 V nominal PKM4516HD. Crucially, both deliver high efficiency: 95.5% at 28Vout half load with the PKM4516AD, and 95.1% at 50Vout half load using the PKM4516HD. Providing high MTBF (mean time between failures) of just under 8 million hours, another key feature is the output voltage adjust function of up to +20%/-50%, which makes it possible to power a wide range of power transistors, and support linearity and efficiency optimization.
Power-saving factors are important as predictions estimate that 5G data rates could reach 107 exabytes (EB) per month by 2023. Around 5kWh is currently required to support every GB of internet data, so 5G power consumption will need to reduce significantly if it wants to be environmentally sustainable and economically viable. To help further in this regard, designers of power-hungry RFPAs are increasingly moving from LDMOS to gallium nitride (GaN) transistors, initially at base station level, due to their inherent high breakdown voltage, high power density, large bandwidth and higher efficiency.
Another solution from Flex Power Modules is the PKJ4000 series of DC/DC converters in half-brick format, which target even higher power RFPA applications. This series delivers 28 or 50VDC at up to 700W of power from an input voltage range of 36 to 75V. In addition, the company is finding that the eighth brick PKB-D series is proving popular as a supporting product since 5V is often needed in varying power levels alongside the 50V (mostly for GaN) or 30V (mostly for LDMOS).
"Demand for our DC/DC converter solutions is growing among the major wireless telecoms companies, but also with those entering the 5G arena via the OpenRAN initiative, which is looking to create open, intelligent, virtualized and fully interoperable RAN that help accelerate 5G development," states James Zhang, Head of Sales APAC at Flex Power Modules. "We are leveraging our interaction with OpenRAN members to provide companies with a wide selection of DC/DC parts that are ideal for RFPA applications.
Flex Power Modules has new products solutions in development, such as a soon-to-be-announced range of digital isolated DC/DC converters for RFPAs that will extend the benefits to include monitoring, configuration and control through the PMBus open protocol.
Ultimately, the latest DC/DC converters from Flex Power Modules support key system factors such as density, integration, reliability and efficiency, enabling a growing number of RFPA developers to reduce design cycles and achieve faster time-to-market.
Flex Power Modules is exhibiting at electronica China, the leading trade fair for electronic components, systems, applications and solutions in China and the Asian-Pacific region. The event is scheduled to take place in Shanghai between 3 – 5 July 2020 at the National Exhibition and Convention Center (NECC). The company's stand is located at Stand D-215.
Share via email