Broadening our industrial and transportation portfolio
News
• September 01, 2019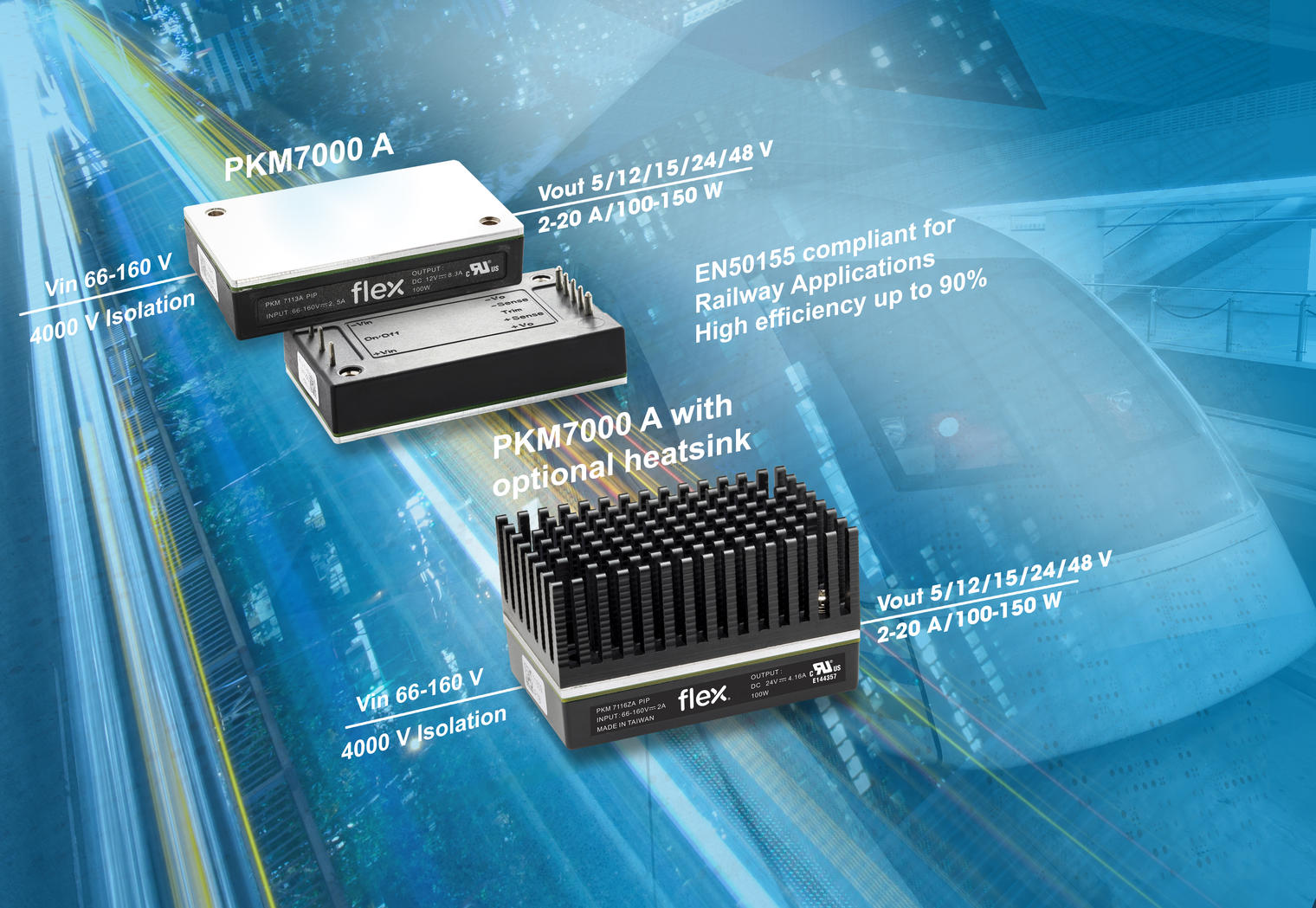 Broad range of voltages and features to meet the needs of many diverse applications
Encapsulated packaging for reliable operation in harsh conditions
Flex Power Modules builds on reputation in ICT market with new capabilities for industrial and railways sectors
Flex Power Modules is introducing new DC-DC power modules for the industrial and railways sectors, broadening its product range to meet increasing demand in these sectors, as well as providing additional versions of existing products, with different input/output voltage ranges. The modules are provided in sealed and encapsulated packaging, to ensure they will work reliably when subjected to dust, moisture, severe vibration and other harsh conditions.
For industrial applications, Flex Power Modules provides high-reliability, high-performance and rugged DC-DC solutions in standard form factors, often running from 24V or 12V supply voltages, rather than the 48V more commonly found in information and communications technology (ICT) applications.
For railway applications, the company provides a series of products that can meet the most stringent electrical and environmental specifications. Modern railway systems need a wide range of DC-DC converters to power different monitoring and control units, and the new series of products mean that Flex Power Modules can now meet a broader range of requirements.

Olle Hellgren, Director of Product Management and Business Development at Flex Power Modules, commented: "While Flex Power Modules has traditionally been best known for its power products in the ICT sector, we have always had a strong offering for the industrial and railways sectors, and the success of our existing PKE and PKM-A modules has encouraged us to invest in offering more products for these applications – to ensure more customers can benefit from the high quality and reliability of our power solutions."
The DC-DC modules support a wide range of input voltages, to cover the needs of different applications. For industrial products, this includes 9 to 36V, 18 to 36V, 9 to 75V and 18 to 75V. Other modules provide input ranges of 43 to 160V and 66 to 160V, to cater to different railway application bus voltages, including 72V, 96V and 110V.
Flex Power Modules provides multiple product families for the industrial and railway sectors, and currently offers five ranges: the PKV Series (1.65-3W), PKE 3000 Series (15-30 W / Vin at 9-36 V), PKE 5000 Series (15-30 W / Vin at 18-75 V), PKE 8000A Series (40 W / Vin at 9-75 V) and PKM 7000A Series (100W / Vin at 66-160 V). The new products are well suited to a broad range of applications, including process control, factory automation, robotics, alternative energy, smart grid, and test and measurement. More families and additional input and output voltage combinations will be added in the coming months.
Additionally, the company's PKR and PKU-E product families – which are already available to customers – are also suitable for industrial applications.

Share via email