New 30 W dual output variants of popular PKE series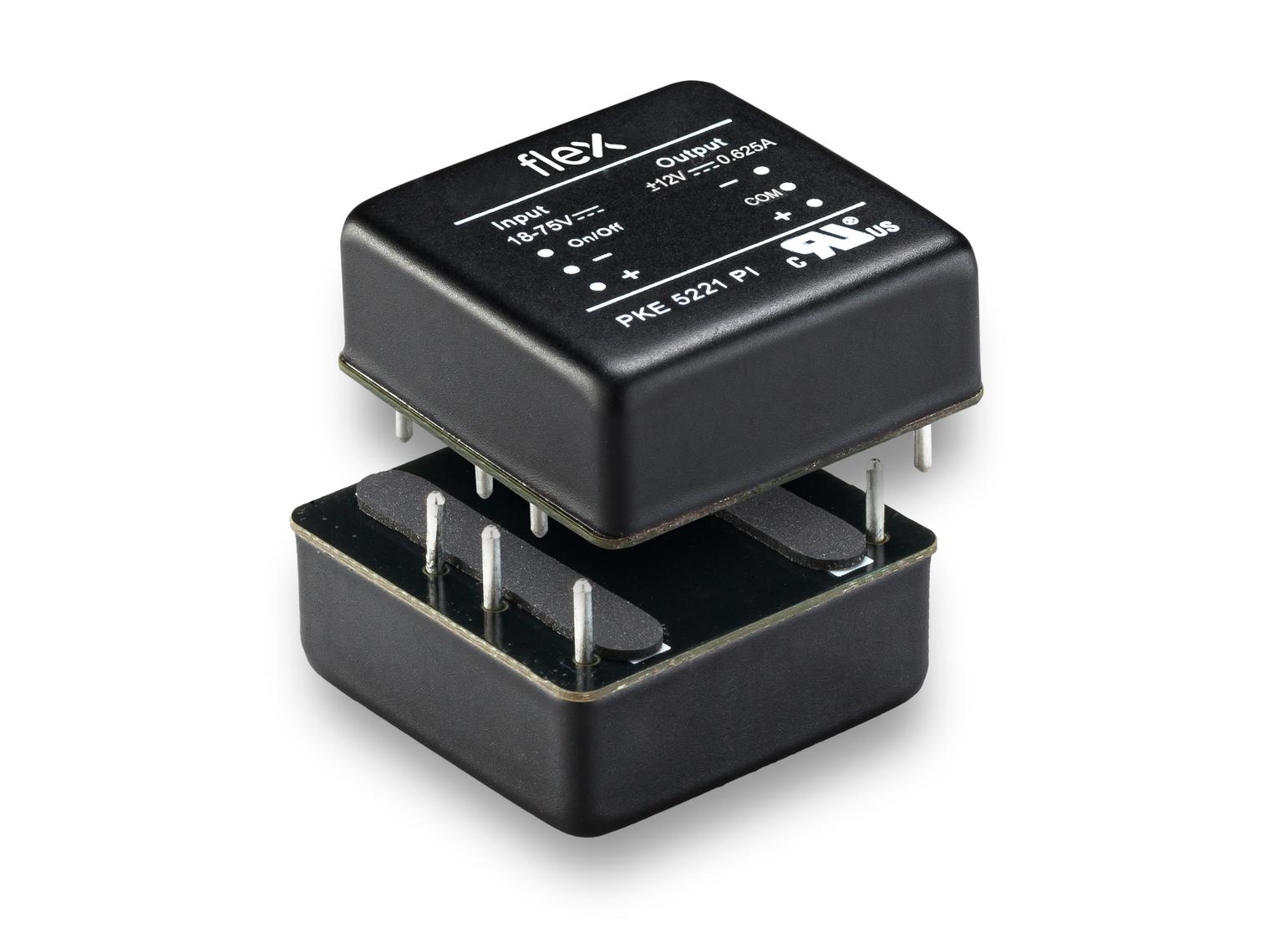 Key features of PKE dual output 30 W:
30 W ratings in a compact 1" x 1" x 0.4" format
4:1 input, 9-36 V or 18-75 V with +/-12 V and +/-15 V outputs
Encapsulated
1500 VDC isolation
Competitive performance/price point
Flex Power Modules has added 30 W dual output variants to its PKE range of through-hole, encapsulated, board-mounted DC/DC converters. The PKE532x series has an 18-75 Vdc (100 V peak) input range suitable for 24, 28 or 48 V nominals and the PKE332x series input range is 9-36 Vdc (50 V peak). Both parts are available with either +/-12V or +/15 V fully regulated dual outputs, with power ratings of 30 W total.
Encapsulation of the PKE series ensures mechanical protection and reliable operation in environments with high shock and vibration levels or with dust/humidity present. All parts are in a space-saving 1" x 1" x 0.4" format with 5-sided shielding from a metallic case.
A particular advantage of these new variants in the PKE series is their ability to operate to over 100°C ambient with airflow and derating. This is facilitated by their exceptional efficiency for this class of product.
Input-output Isolation of the DC/DC converters is 1500 VDC, meeting 'basic' insulation and safety requirements according to IEC/UL 62368-1. EN 55032, CISPR 32 and FCC part 15J EMC conducted emissions standards can be met with an external filter, specified in the product data sheets.
A remote on/off control is provided and both series include comprehensive protection against over temperature, input under-voltage, output over-voltage, over-current and short circuits.
Olle Hellgren Director Marketing and Product Management, Flex Power Modules comments: "These PKE range additions with higher powered dual outputs are positioned at an attractive price/performance point. They are a great fit for high reliability applications where cost is important, such as industrial and communication electronics, instrumentation devices and mobile and battery-operated systems".
Flex Power Modules has been a technical pioneer in the development of power modules for more than 40 years with quality designed and built into products at every stage. The PKE series benefits from this long experience and has undergone comprehensive qualification, which, along with highly automated manufacturing, guarantees reliable operation. Flex Power Modules' products are backed up by ISO 9001/14001 certification and unrivaled technical support.
Share via email