New 700 W digital quarter brick for RFPA applications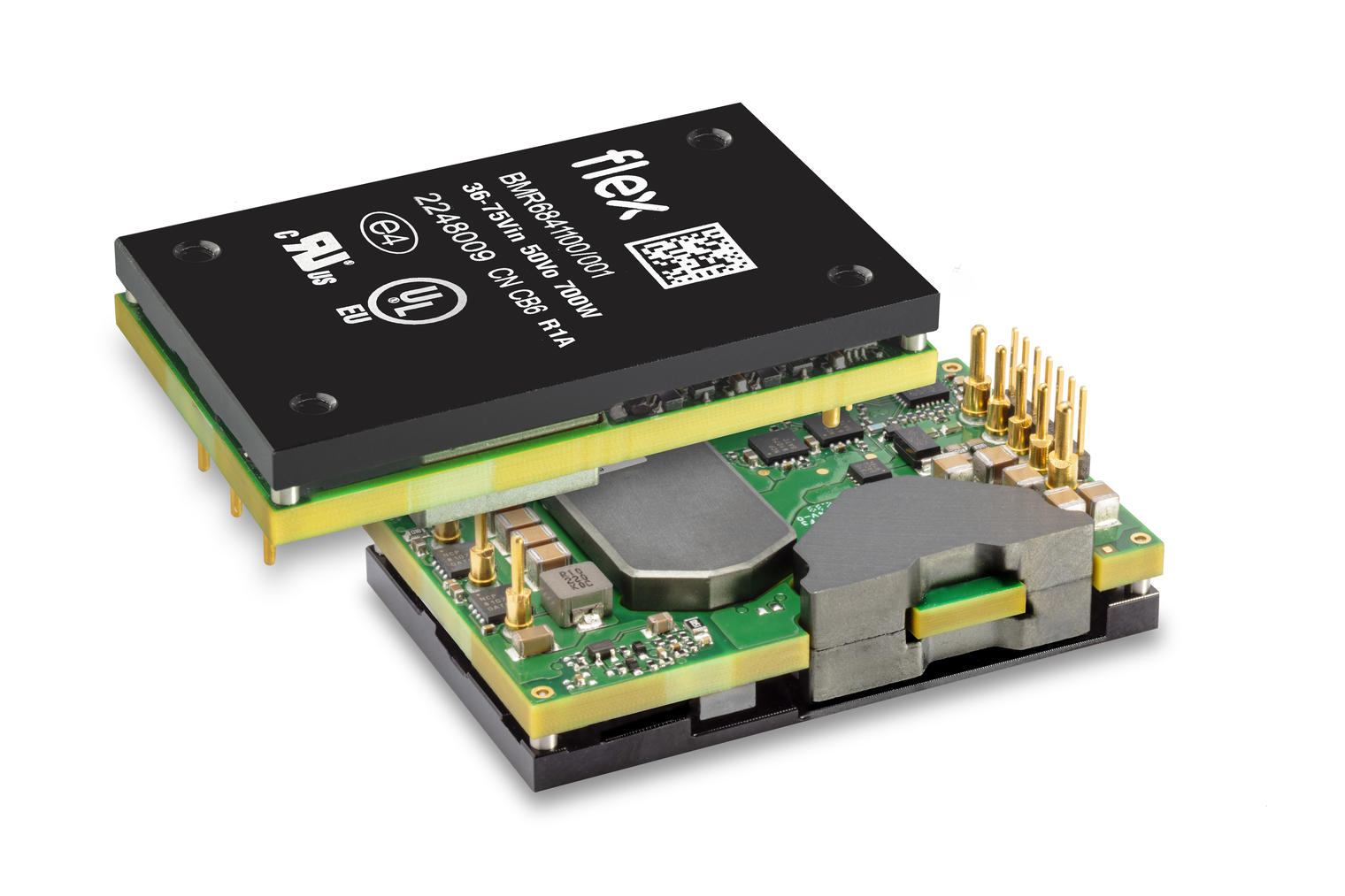 The through-hole mounted BMR684 is targeted at RFPA applications needing a 50 V supply at up to 14 A for gallium nitride (GaN) or laterally diffused MOSFET (LDMOS) power amplifiers, and a wide adjustment range of 25-55V is offered to help system designers achieve the optimum efficiency and linearity of the power amplifier.
The device achieves an impressive 96% efficiency at full load, and has a maximum baseplate operating temperature of 100°C. The converter input range is 36-75 VDC and a remote control function is included, along with remote sense. Input-output isolation is 1500 VDC, and the device is packaged in the industry-standard quarter brick format measuring 58.4 x 36.8 x 12.7 mm (2.3 x 1.45 x 0.5 in).
The product is fully protected against input under-voltage, over-temperature, output over-voltage, over-current and short circuits. As with all our DC/DC converters, these units comply with IEC/EN/UL 62368-1 safety standards.
The BMR684 includes a PMBusTM interface to allow easy monitoring of input and output voltages, output current, and device temperature. The device also allows users to configure many aspects of the device operation including voltage and current for improved fault tolerance, and optimization of the module's control loop for stable operation in a wide range of circumstances. Power management features also include configurable soft start/stop, precision delay, and ramp-up, and the product is fully supported by the powerful Flex Power Designer tool.
Olle Hellgren, Director Product Management and Marketing at Flex Power Modules, said: "Customers in the RFPA field are constantly looking for higher power density solutions for GaN and LDMOS based Radio Unit designs, and the new BMR684 delivers the power levels that traditionally have only been delivered in half brick packages, and with the added benefit of the PMBus interface, we believe this is a winning combination."
We will be contributing to the embedded world Power Supply Conference, with a presentation entitled 'Peak Load Management by Communication with DC/DC Converters' on Tuesday 14th March at 11.30am. The presenter is Giorgio Mauri, Senior Principal Field Applications Engineer at Flex Power Modules.
The new BMR684 as well as the whole product portfolio will be on display at the Flex Power Modules booth in hall 4 number 561.
Share via email