Quarter brick DC/DC converter with up to 500W for RFPA applications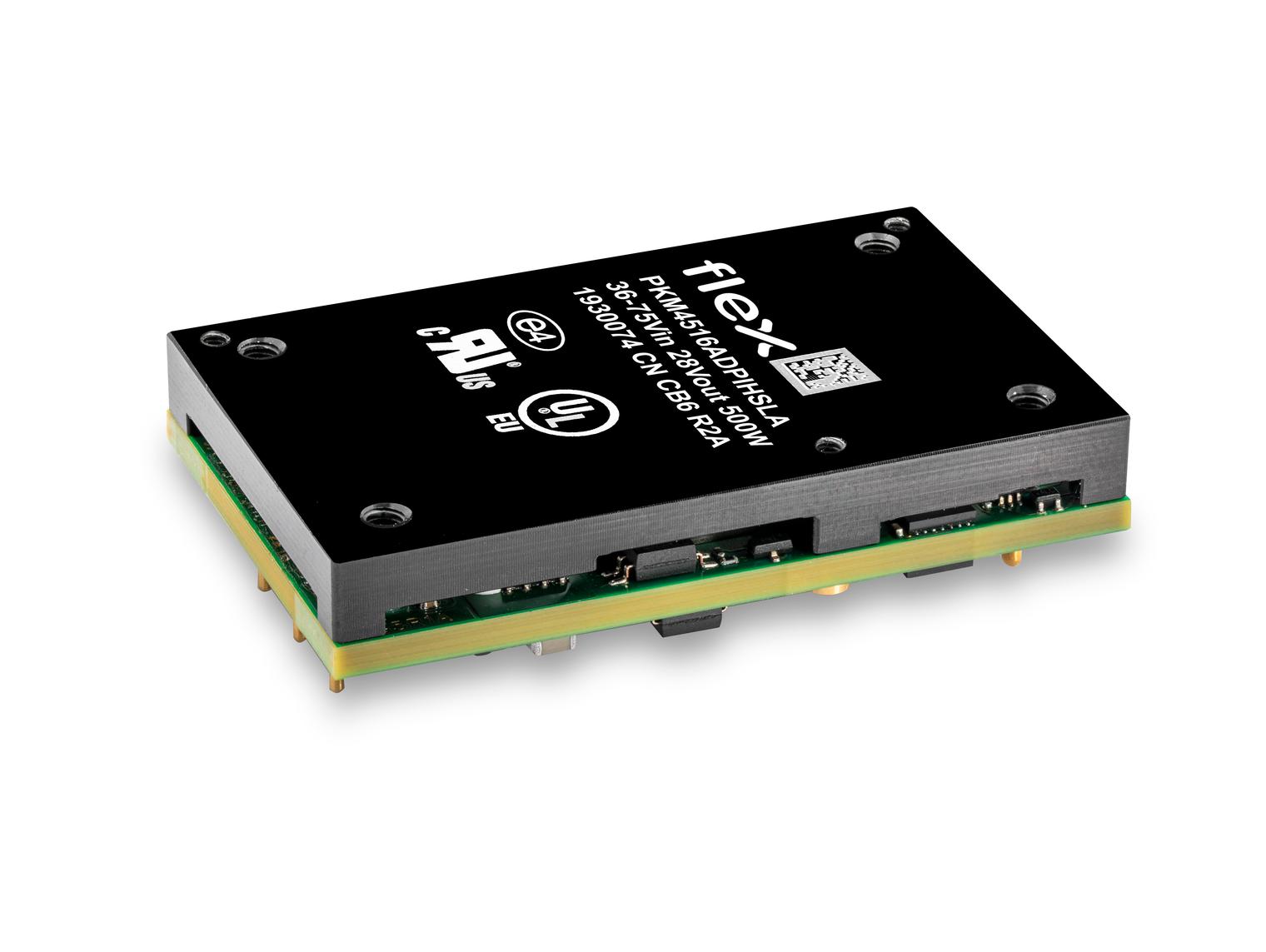 High-density converter ideal for radio frequency power amplifier (RFPA) applications using 28V LDMOS or GaN Transistors
High efficiency, typically 95.5% at half load
28V/18A/504W output available in industry standard quarter-brick format
2250 Vdc input to output isolation
Flex Power Modules announces the PKM4516ADPIHS, the latest model in its series of DC-DC converters aimed at radio frequency power amplifier (RFPA) applications in the telecom market.
The PKM4516ADPIHS is a high-density converter in the industry standard quarter-brick format, thus saving valuable board space. It has an output of 28V at 18A, output power up to 504W, and an input voltage range of 36V to 75V. This makes it ideal for 28V laterally diffused MOSFET (LDMOS) or gallium nitride (GaN) based RFPA applications.
The new converter has typical efficiency peaking at 95.5% at 48Vin and half load. It has a wide output voltage adjustment range of 14V to 35 V, allowing for easy optimization of the connected RF section.
Comprehensive protection is provided including short-circuit, overload, over-temperature, output over-voltage, and input under-voltage. Start-up into pre-biased loads is guaranteed, and the isolation rating is 2250Vdc from primary to secondary. A remote on/off control is provided with optional positive or negative logic.

The part is fitted with a baseplate for conduction cooling, for example when positioned inside sealed enclosures with no airflow, which is typical of RFPA applications. This allows 18 A / 504 W operation at up to 85°C baseplate temperature, and only marginal derating to 17.8 A / 500 W output at 100°C baseplate temperature. The full operating temperature range for the device is -40°C to +125°C, with excellent derating characteristics.
The half-bridge design of the PKM4516ADPIHS features the latest PWM controller technology with a high level of integration, which saves money for OEMs due to low component count, and ensures excellent reliability. Synchronous rectification contributes to cutting-edge efficiency performance leading to high power density and extremely high reliability with a mean time between failures (MTBF) rating of up to 7.9 million hours. The converter meets safety requirements according to IEC/EN/UL 62368-1.
"With OEMs involved in 5G seeing global design wins and an imminent roll out, using both LDMOS and GaN transistors, the PKM4516ADPIHS is an ideal fit as a power source," said Olle Hellgren, Director Business and Product Management at Flex Power Modules. "The part will also find applications in the Internet of Things, mobile back- and front-haul, and in-building wireless communication infrastructure."
The PKM4516ADPIHS module has been designed and manufactured by Flex Power Modules to deliver the levels of quality and performance that power system designers have come to expect for their system designs. Provided in the quarter-brick format, it measures 58.4 x 36.8 x 13.2 mm (2.3 x 1.45 x 0.52 in).
Share via email