PKU-A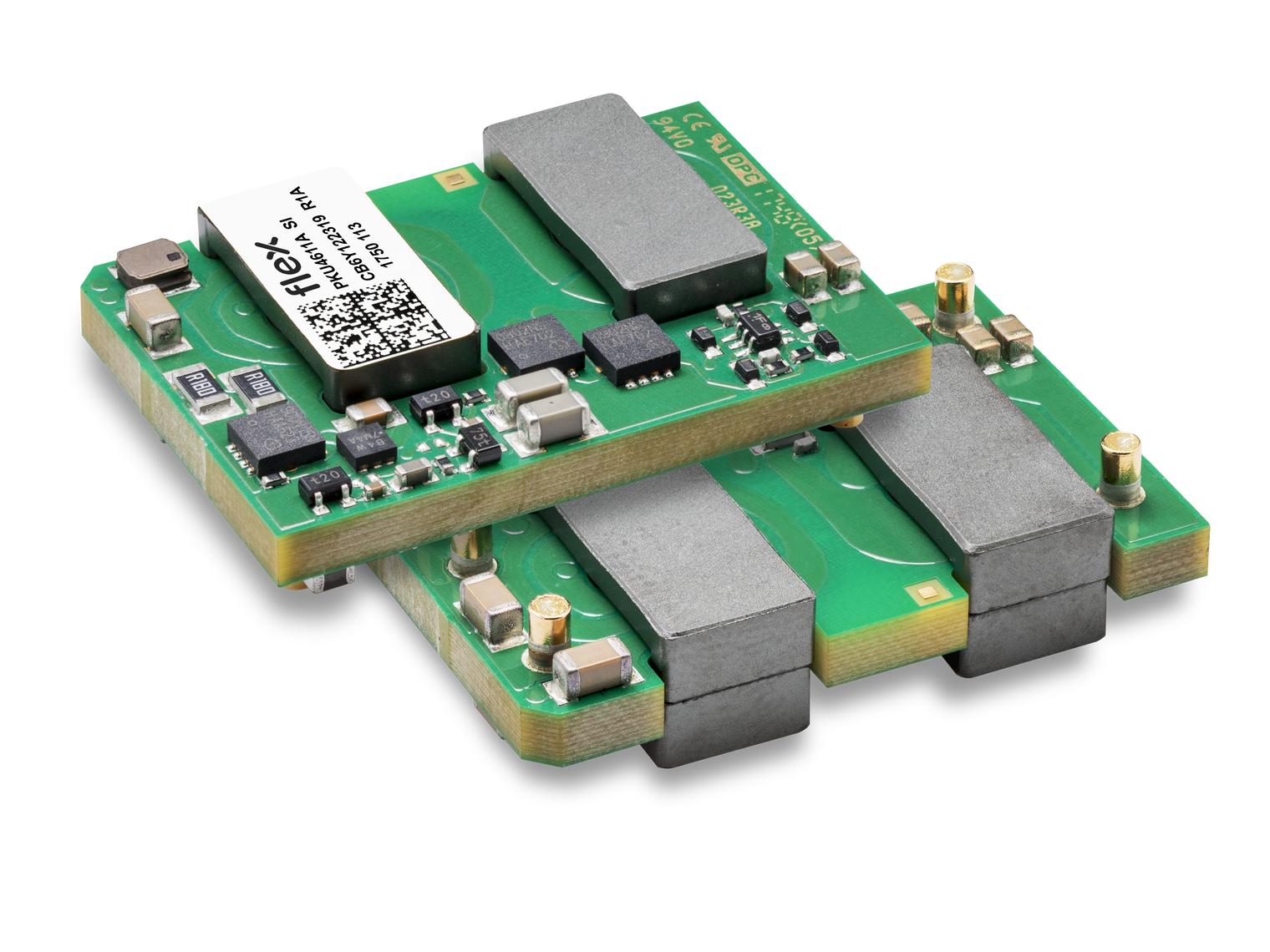 Wide output trim range for low-power radio designs
Cost-optimized for high-volume, price-sensitive applications
Mechanical design facilitates simple manufacturing and easy cooling
Flex Power Modules is introducing the PKU4611A and PKU4617A, two new isolated DC-DC converters in the sixteenth-brick form factor.
The new converters are ideal for low-power radio frequency power amplifier (RFPA) applications within small cell radios and microwave systems. They offer a wide output trim range, which is optimized for the needs of low-power radio designs that require a 5V to 7V supply.
For cost-sensitive and high-volume applications, the converters offer an excellent price performance ratio. The converters' design provides a relatively flat component landscape, which facilitates easy cooling within sealed box environments using thermal pads – and also makes manufacturing simpler, thus further contributing to lower overall system cost.
The converters' efficiency is high, at typically 94% at half load and 5V output voltage. With an input voltage range of 36V to 60V, both variants provide up to 60W output power: the PKU4611A at up to 5V/12A, and the PKU4617A at up to 6V/10A.
The new devices are aimed at small cell and microwave applications requiring a 5V to 7V bus at up to 60W and 2250V isolation, in a sealed box environment. In particular, they are well suited to small cell applications for in-building wireless access, and outdoor microwave equipment supporting mobile broadband such as 3G, 4G and 5G.
Olle Hellgren, Director of Product Management and Business Development at Flex Power Modules, said: "With these new converters, Flex Power Modules has focused our attention on optimizing cost wherever possible – delivering a cost-efficient solution, without any compromise on quality, thermal performance or reliability."
The converters are provided in a low-profile sixteenth-brick form factor, measuring 33.02 x 22.86 x 8.4mm (1.30 x 0.90 x 0.33in).
They provide 2250V DC input-to-output isolation, and meet safety requirements according to IEC/EN/UL 62368-1. Flex Power Modules' highly automated manufacturing processes, with certification to ISO 9001/14001, ensure consistent quality, and the converters offer a mean time between failures (MTBF) of 5.2 million hours. The PKU-A series is available in OEM quantities.
About Flex Power Modules
Flex Power Modules, a division of Flex (NASDAQ:FLEX), designs and manufactures scalable power supply solutions that improve the operational efficiencies of advanced data center, IT information and communications networks. Flex Power Modules also offers a wide product range for the Industrial/Transportation sector. Flex Power Modules' products provide a complete onboard system solution for cloud, storage and server applications and address customer challenges while delivering superior quality, cost and performance at scale.
About Flex
Flex is the Sketch-to-Scale® solutions provider that designs and builds Intelligent Products for a Connected World™. With approximately 200,000 professionals across 30 countries, Flex provides innovative design, engineering, manufacturing, real-time supply chain insight and logistics services to companies of all sizes in various industries and end-markets. For more information, visit flex.com or follow us on Twitter @Flexintl. Flex – Live Smarter™
Contact for editorial information
Nayl D'Souza, Account Director
Contact for company information
Tuuli Waern, Technical Marketing Manager, Flex Power Modules
Share via email