70 W DC/DC converter for microwave applications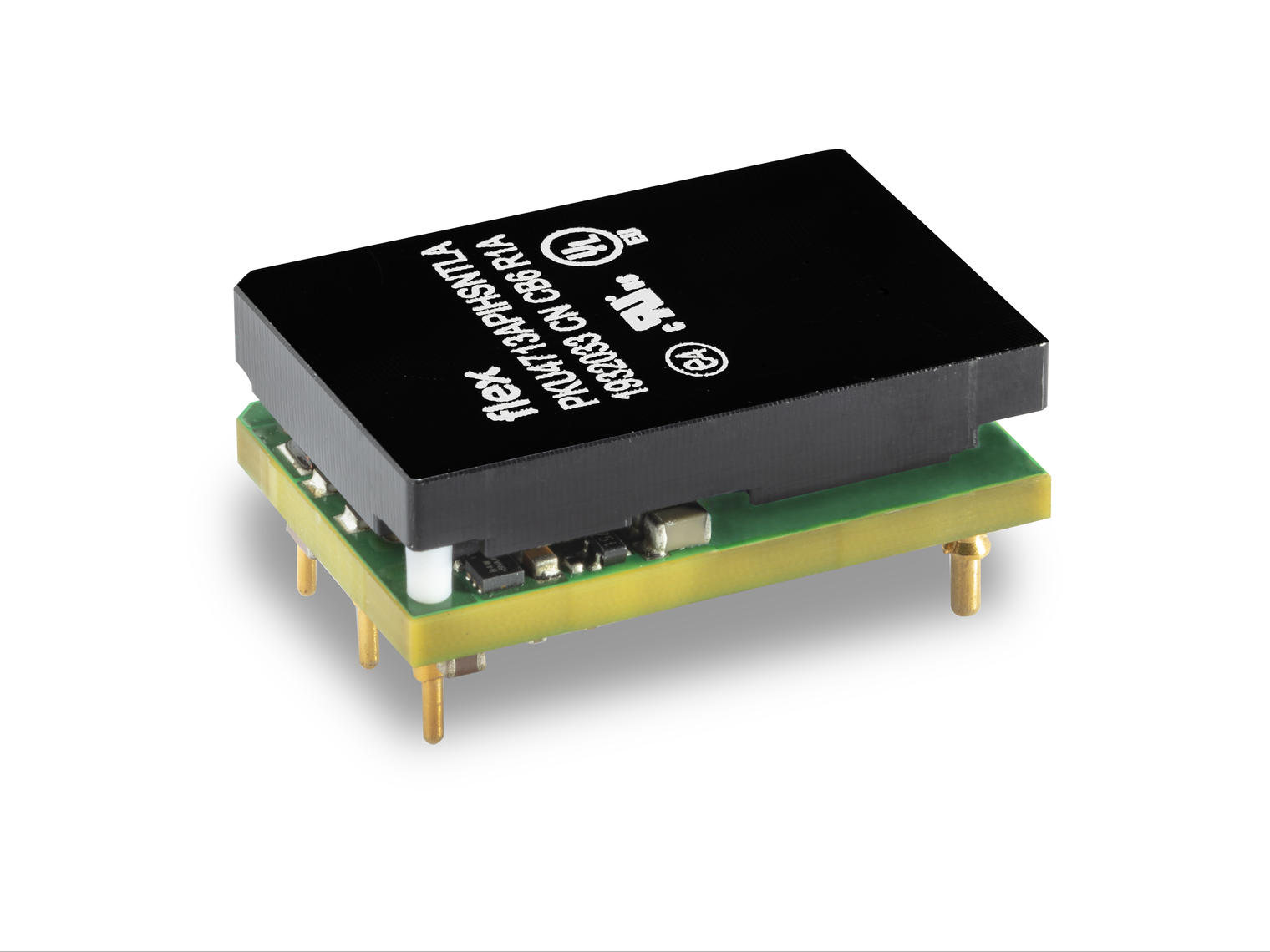 High efficiency of typically 94% at full load, minimizing power dissipation
Extremely good thermal performance, making the converter suitable for use with passive cold-wall cooling
Price-competitive 70W solution in a compact sixteenth-brick package
Flex Power Modules introduces the PKU4713A, a fully regulated analog DC-DC converter, available with or without a baseplate. The new converter is ideal for microwave and wireless small-cell applications, and offers high efficiency and excellent thermal performance at a very competitive price.
The PKU4713A achieves high efficiency of typically 94% at full load, thus reducing power dissipation. It is provided in a low-profile sixteenth-brick package, measuring just 33.02 x 22.86 x 8.2mm (1.30 x 0.90 x 0.32in). This means that it offers high power density and reduces the space requirement.
Thermal performance is excellent. The converter is available with a baseplate option for conduction cooling inside sealed enclosures with limited airflow. This makes it suitable for use in systems that use passive cold-wall cooling, rather than forced air or fans, with 70W provided at a 100°C cold wall. The converter has an operating temperature range of -40°C to +125°C.
The new converter provides input to output isolation of 2250V. It has an input voltage range of 36V to 65V, and an output of up to 5.82A at 12V, delivering up to 70W.

Olle Hellgren, Director of Product Management and Business Development at Flex Power Modules, said: "The shift to 5G wireless technology is driving demand for new small-cell base stations, and the new PKU4713A provides the right combination of efficiency, thermal performance and cost-effectiveness that's needed for this market."
The converter meets safety requirements according to IEC/EN/UL 62368-1. Reliability is very high, with an MTBF of 17.5 million hours, and Flex Power Modules' highly automated manufacturing ensures quality.

To keep up to date with our latest Product News and Announcements, please sign-up to our Newsletter
Share via email