Introducing 2nd generation Direct Conversion DC/DC for data centers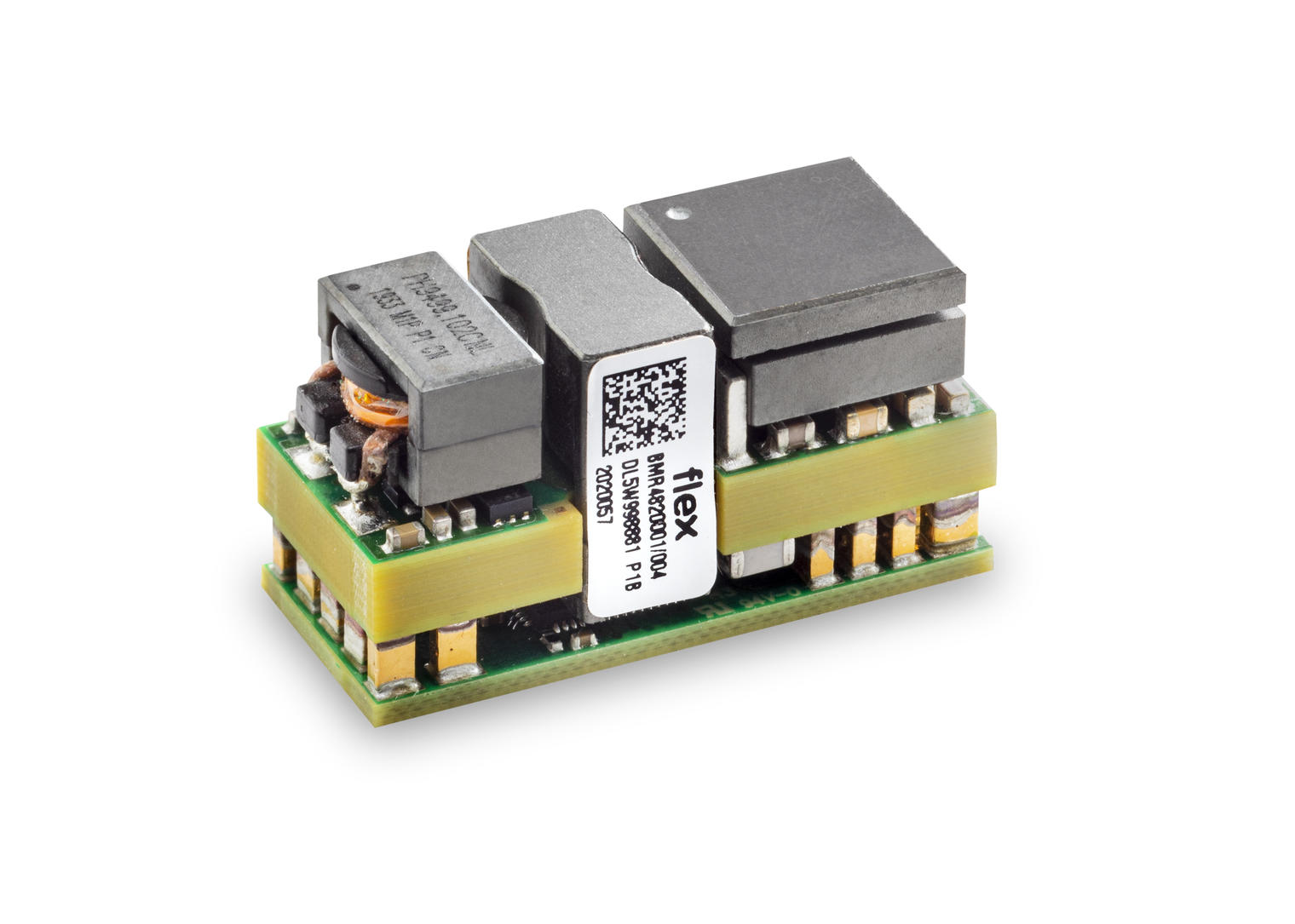 Second generation 48V-to-load Direct Conversion technology
Up to 91.3% efficiency from the cost-effective DC/DC converter
Board space requirements up to 50% lower than two-stage architecture
Scalable multi-phase design can deliver up to 660 A from six modules in parallel
Flex Power Modules introduces the BMR482, its second generation of direct conversion isolated DC/DC converter. By converting directly from a 48 V supply to the load voltage without an intermediate stage, the BMR482 delivers increased efficiency in a compact package, enabling it to meet the higher power needs of today's data centers and cloud computing.
The BMR482 can achieve up to 91.3% efficiency with a 0.8 V output at 53 Vin, which is 2 to 3% better than an equivalent solution based on an intermediate bus converter (IBC) and point of load (PoL). The single-stage BMR482 also requires up to 50% less board space than a conventional two-stage solution, helping reduce overall costs.
The new converter is available as a 'main unit', measuring just 30 x 12.7 x 16.3 mm, which includes a digital interface for monitoring, configuration and control, and can deliver a maximum output current of 110 A. If a higher output current is required, up to five 'satellite' modules can be added, measuring 30 x 12.7 x 14.9 mm each, to provide a maximum total output current of 660 A. These are automatically enabled and disabled by the main unit depending on the output current drawn, meaning efficiency is optimized across the entire current range dynamically.
Designed for server applications, the BMR482 has an input range of 40-60 V, enabling it to operate with supplies nominally rated at 48 V or 54 V. It has a programmable 0.5-1.35 V output voltage, and the main power train has 1500V isolation from input to output.
The BMR482 is compliant with the PMBus v1.3, AVSBus and Intel SVID interfaces, offering complete digital control. It is supported by the Flex Power Designer software tool, making power system design easier and quicker.
The new converter provides a fast load transient response and high current monitoring accuracy. It offers excellent thermal performance and is designed with optimal cooling in terms of terminals, footprint and component placement. Reliability is critical in such applications, and the BMR482 offers a mean time between failure (MTBF) of over 13.1M hours.
Olle Hellgren, Director Product Management and Business Development at Flex Power Modules, said: "Today's data centers are testing the limits of conventional IBC/PoL architectures, with up to 3kW or 4kW required per board. The BMR482 solves this problem by converting directly from the 48V or 54V system bus voltage to the PoL voltage, which is typically less than 2V."


Share via email