High power density 1/8th brick DC/DC converter offers burst mode operation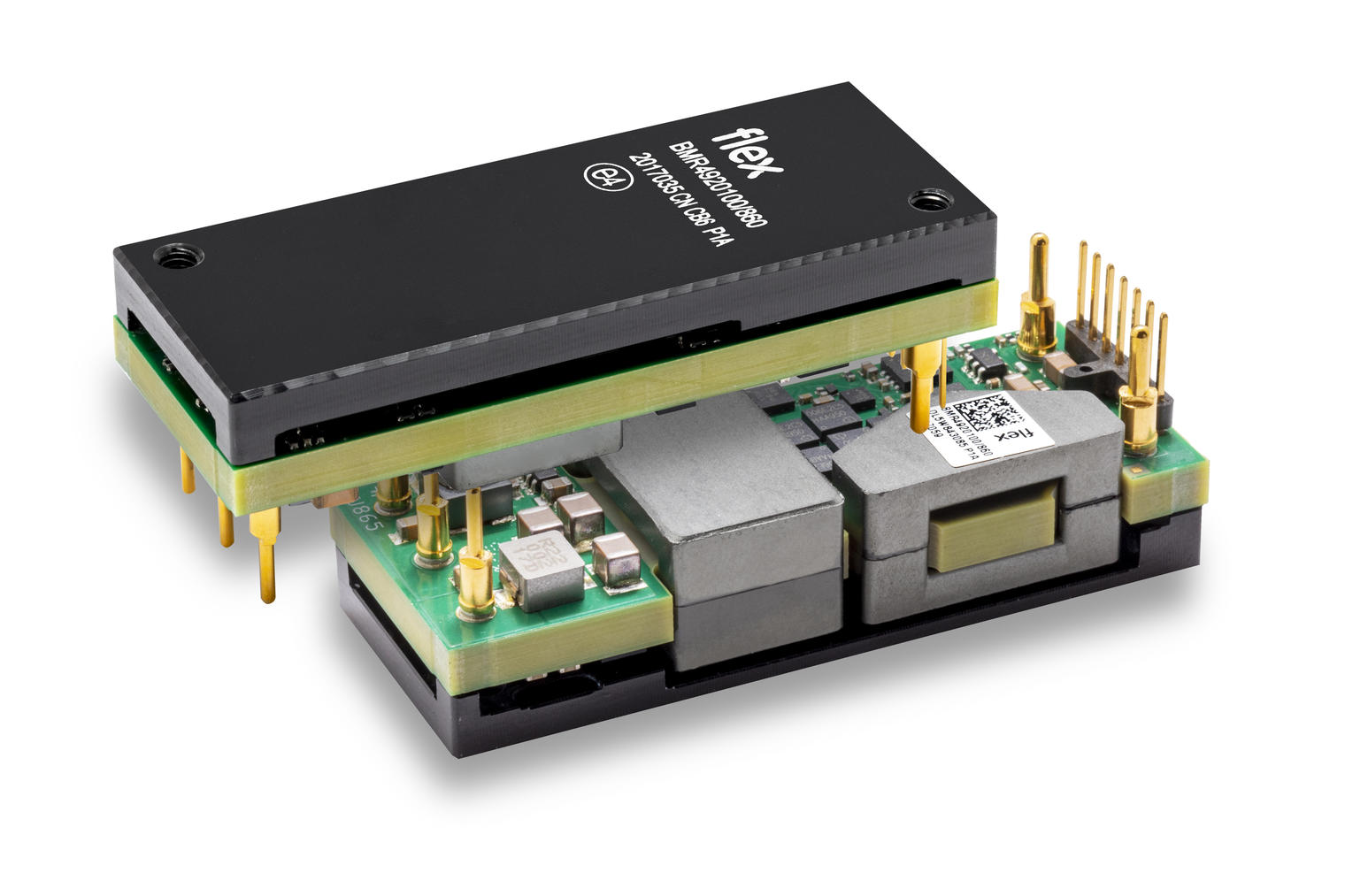 If you're looking for a high power density eighth-brick DC/DC converter for datacom applications, we think we have the right solution. Today's data centers are all about doing more with less. They can fit a tremendous amount of processing and storage into ever smaller spaces – keeping costs down, and delivering the performance that end users demand.
To keep up, power systems need to hit new levels of power density, delivering higher power from compact packages. At the same time, efficiency needs to be high, to avoid excess heat dissipation that would be an expensive headache for the data center cooling systems.
Flex Power Modules is leading the way to meet these targets. We've always provided the best combination of power density, efficiency and output power, and now we've squeezed our latest digital DC/DC converter for datacom applications into an eighth-brick package, the BMR492.
The new converter redefines what is possible from a digital intermediate bus converter (IBC) in this form factor. It delivers peak power of up to 1100W for short periods of up to a second, as well as up to 800W of continuous power.
Put simply, the new converter can pump out power at levels that was only previously achievable in the larger quarter-brick format. It builds on Flex Power Modules' experience in developing IBCs over many years, to provide a solution that's both small and mighty, measuring just 58.4 x 22.7 x 12.7 mm (2.3 x 0.90 x 0.34 in).
High power density eighth-brick DC/DC converter for datacom handles peak power bursts
You might be asking why we have chosen to focus on peak power, and what the converter can push out in a brief 'burst mode'?
The reason is simple: this kind of optimization is what's required by many modern CPUs. For example, Intel's 10th generation Intel® Core™ processors (previously codenamed Ice Lake) include a burst mode that raises the clock rate of one or more cores in the CPU for short periods.
The CPU includes some clever management features to conserve power and avoid overheating, but the bottom line is that it needs a power supply that can deliver enough watts to keep up. Other chipmakers provide similar modes in their processors.
And while each CPU on its own may not draw much power, perhaps around 100W as a rule of thumb, an average data center will include many, many devices – with industry body AFCOM reporting that 8.2kW is the average consumption per rack, up from 7.2kW in 2018. That's just the average, of course.
New applications, particularly in artificial intelligence (AI), are raising demands for number-crunching in the data center, and 40kW per rack, or even more, is not uncommon. As AI becomes more widely-used, these kind of high-density racks are likely to become more frequently found amongst data centers for the regular business world, rather than just being the preserve of the high-performance computing (HPC) outliers.
The BMR492 provides the 12V output needed for data center racks, big or small, from the nominal 48 or 54V systems usually found in these applications. The output can also be adjusted, via the PMBus interface, across a range of 8 to 13.2V.
As you'd expect, the BMR492 doesn't sacrifice efficiency – with a peak figure of 96.7% at 48V input, at half load. It's a rugged, dependable option, with a mean time between failures (MTBF) of 6.64 million hours, and advanced over-voltage, over-temperature, and short-circuit protection mechanisms. To help system designers, it's supported by the Flex Power Designer software tool.
For demanding datacom applications, the BMR492 provides the output power they need, in a compact package. As power density requirements get more challenging, the BMR492 makes sure you can keep up.
To learn more about the benefits of the BMR492, you can also watch our new product introduction video.
Share via email