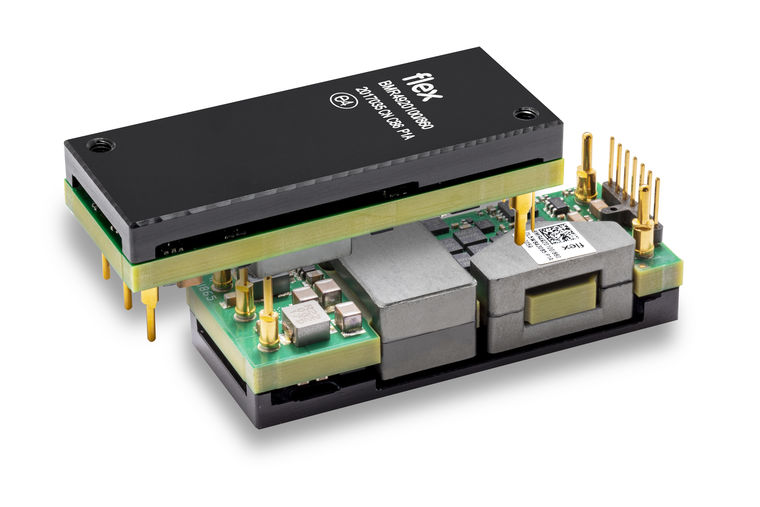 BMR492 series
Eighth brick digital isolated DC/DC converter delivers >600 W for datacom applications
The BMR492 is the latest generation of our digitally controlled Advanced Bus Converter packaged in an eighth-brick format.
There are three initial versions planned, each with an input voltage range of 40 to 60V which meets the typical voltage requirements used in the data center environment.
The first released version, the BMR4920302/861, has a continuous output power of 600 W / 50 A, and delivers a fully regulated output of 12 V, adjustable from 8-13.2 V via PMBus.
Isolation between input and output is 1500Vdc, and it boasts a typical efficiency of up to 96.7% at 48Vin / 50% load.
Future versions will include a 10.4 V / 700 W continuous output power device capable of supplying up to 950 W of peak power for short durations (≤1s), and a 12 V / 800 W continuous output power device that can deliver up to 1100 W of peak power. These 2 versions will employ Hybrid Regulated Ratio technology to achieve these exceptional levels of power density by boosting the efficiency levels up to 97.4%.
The BMR492 series has an operating temperature range from -40°C up to +125°C and has a mean time between failure (MTBF) of over 6 million hours.

Standard features for the BMR492 include output over voltage protection, output short-circuit protection, over temperature protection, and a digital interface using the PMBus protocol using the 7-pin industry standard.

The BMR492 is supported by our own Flex Power Designer tool.
For more data on the peak power versions of this series, please reach out to us at pm.support@flex.com.
Specifications
Model
V

in

V

out

P

out

I

out

Eff
Size
Mount