PKE dual output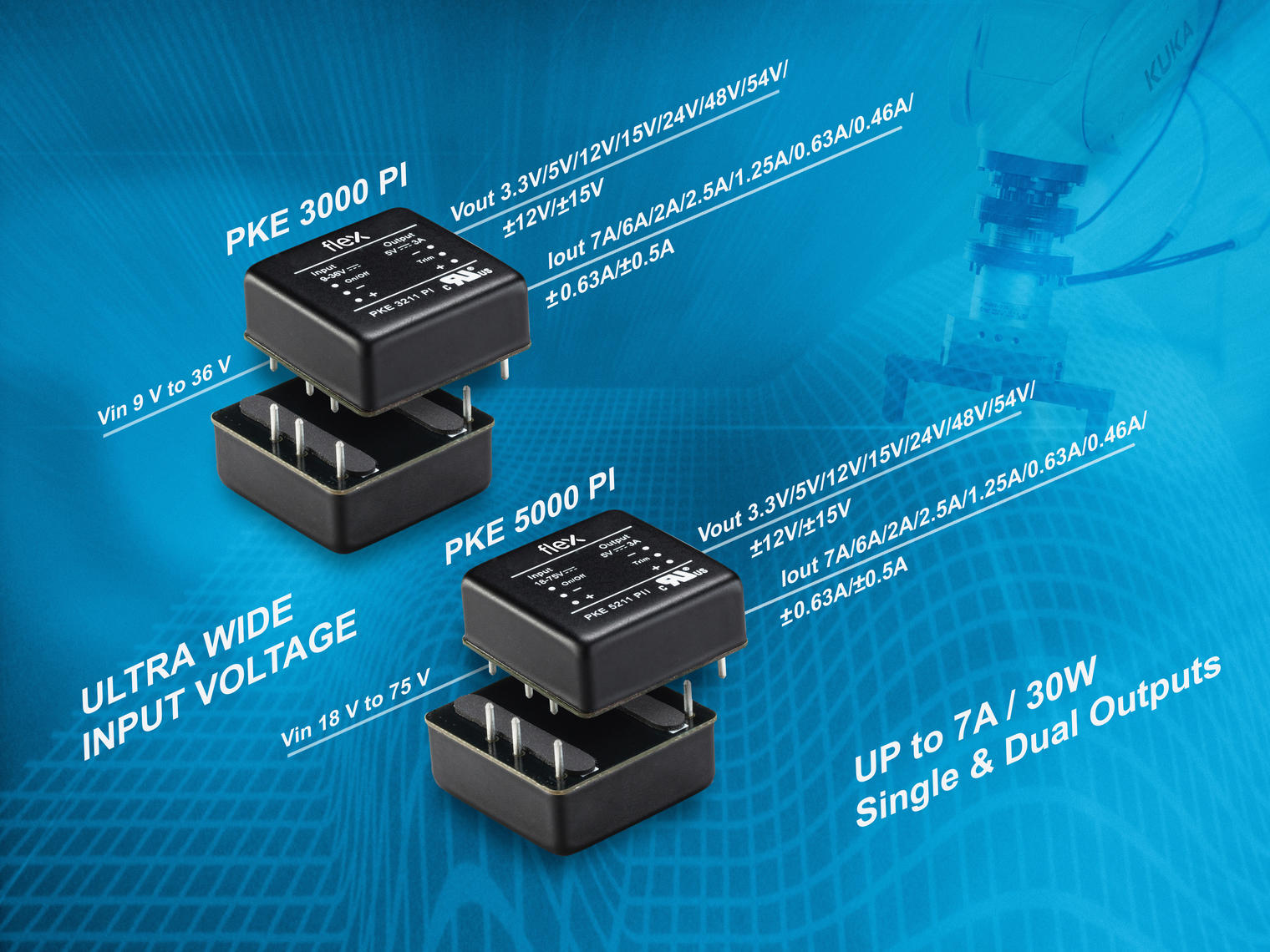 Encapsulated 1 x 1in package now delivers single outputs up to 30W, and dual outputs up to 15W

3.3V, 5V, 12V, 15V, 24V, 48V and 54V single outputs available up to 30W
±12V and ±15V output versions added, delivering 15W
9 to 36V and 18 to 75V inputs suit industrial and telecom applications
Flex Power Modules introduces several new additions to the PKE series of DC-DC power converter modules for the industrial, test equipment and telecom sectors, continuing its commitment to offer a wider portfolio to design engineers. The modules are provided in sealed and encapsulated packaging, to ensure they will work reliably when subjected to dust, moisture, severe vibration and other harsh conditions.
The PKE3000 and PKE5000 series provide highly reliable, high-performance and rugged DC-DC solutions in the industry-standard 1 x 1in form factor, running from 12V or 24V nominal inputs for the PKE3000 series (9 to 36V), and 24V or 48V nominal inputs for the PKE5000 series (18 to 75V). Delivering up to 30W of output power at up to 92% efficiency, the series also offer mean time between failures (MTBF) of up to 5 million hours, and input-to-output isolation of 1500VDC. The new galvanically isolated devices also meet the latest IEC/EN/UL62368-1 safety standards.
David Xie, Head of Product Management at Flex Power Modules, commented: "The PKE series is a popular package size in the industrial and test equipment market. Being designed to meet the requirements of demanding applications in these sectors alongside the telecom market too, these new variants further expand our support to design engineers with versatile products that are highly reliable and efficient."
Both the PKE3000 and PKE5000 families are available now for sampling and volume production requirements.
About Flex Power Modules
Flex Power Modules, a division of Flex (NASDAQ:FLEX), designs and manufactures scalable power supply solutions that improve the operational efficiencies of advanced data center, IT information and communications networks. Flex Power Modules also offers a wide product range for the Industrial/Transportation sector. Flex Power Modules' products provide a complete onboard system solution for cloud, storage and server applications and address customer challenges while delivering superior quality, cost and performance at scale.
About Flex
Flex is the Sketch-to-Scale® solutions provider that designs and builds Intelligent Products for a Connected World™. With approximately 200,000 professionals across 30 countries, Flex provides innovative design, engineering, manufacturing, real-time supply chain insight and logistics services to companies of all sizes in various industries and end-markets. For more information, visit flex.com or follow us on Twitter @Flexintl. Flex – Live Smarter™
Contact for editorial information
Nayl D'Souza, Account Director
Contact for company information:
Tuuli Waern, Technical Marketing Manager
Share via email