Ultra-wide DC/DC converters for railway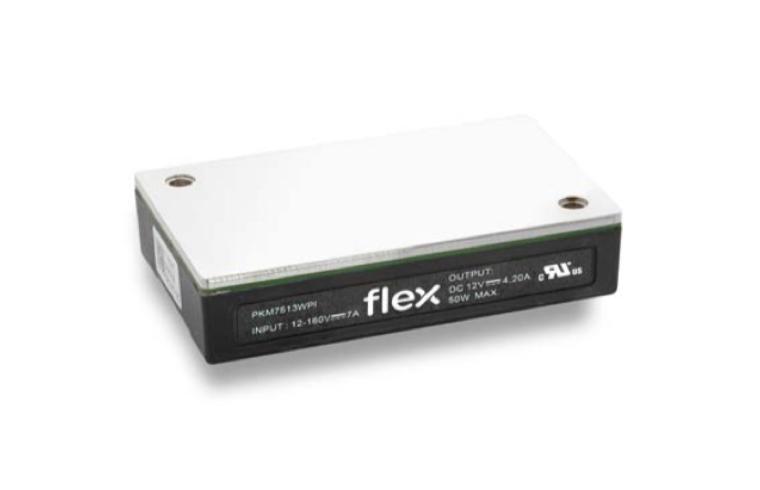 Flex Power Modules DC-DC converters have ultra-wide input range for railway rolling stock
Ultra-wide input voltage range from 12V to 160V
Fully encapsulated to improve reliability
Input and output protection prevent damage to converters and powered devices
Excellent performance/price ratio
Flex Power Modules announces the PKM7500W and PKM7100W, two new series of quarter-brick modules for powering railway rolling stock equipment. The 50W PKM7500W offers an extremely wide input voltage range of 12V to 160V, while the 100W PKM7100W has an input range of 14V to 160V.
This wide input voltage range means that equipment designers can use just one DC-DC converter for products intended for use anywhere in the world, which makes installation, qualification and aftermarket support easier. Equipment for use in railway rolling stock must meet a wide range of standard input voltages, which varies from country to country. Previously, therefore, manufacturers would have to create at least two variants: one designed for lower voltages such as 24V, 36V and 48V, and another for higher voltages such as 72V, 96V, and 110V.
These nominal voltages are defined in the EN50155 standard, which also sets requirements for handling voltage dips and spikes. This means the lowest voltage a 24V-based system must deal with is in fact 14.4V, and the highest voltage for a 110V-based system is 154V.
Olle Hellgren, Director of Product Management and Business Development at Flex Power Modules, said: "These new modules enable equipment designers to simplify how they handle different countries' power requirements – saving time and reducing costs.''
Making them well-suited to use in harsh environments, the modules are fully encapsulated to stop dust, moisture and corrosion, as well as being resistant to vibration – thus improving reliability. They incorporate input under voltage protection, output over current protection, output over voltage protection, and over temperature protection, which enables them to avoid damage to the modules themselves, and the equipment they are powering.
The PKM7100W provides up to 100W output power, at 5V, 12V, 13.8V, 15V, 24V, 48V and 54V output voltages. The PKM7500W provides up to 50W at the same output voltages, as well as 3.3V.
To keep up to date with our latest Product News and Announcements, please sign-up to our Newsletter
Share via email