PKU-D 260W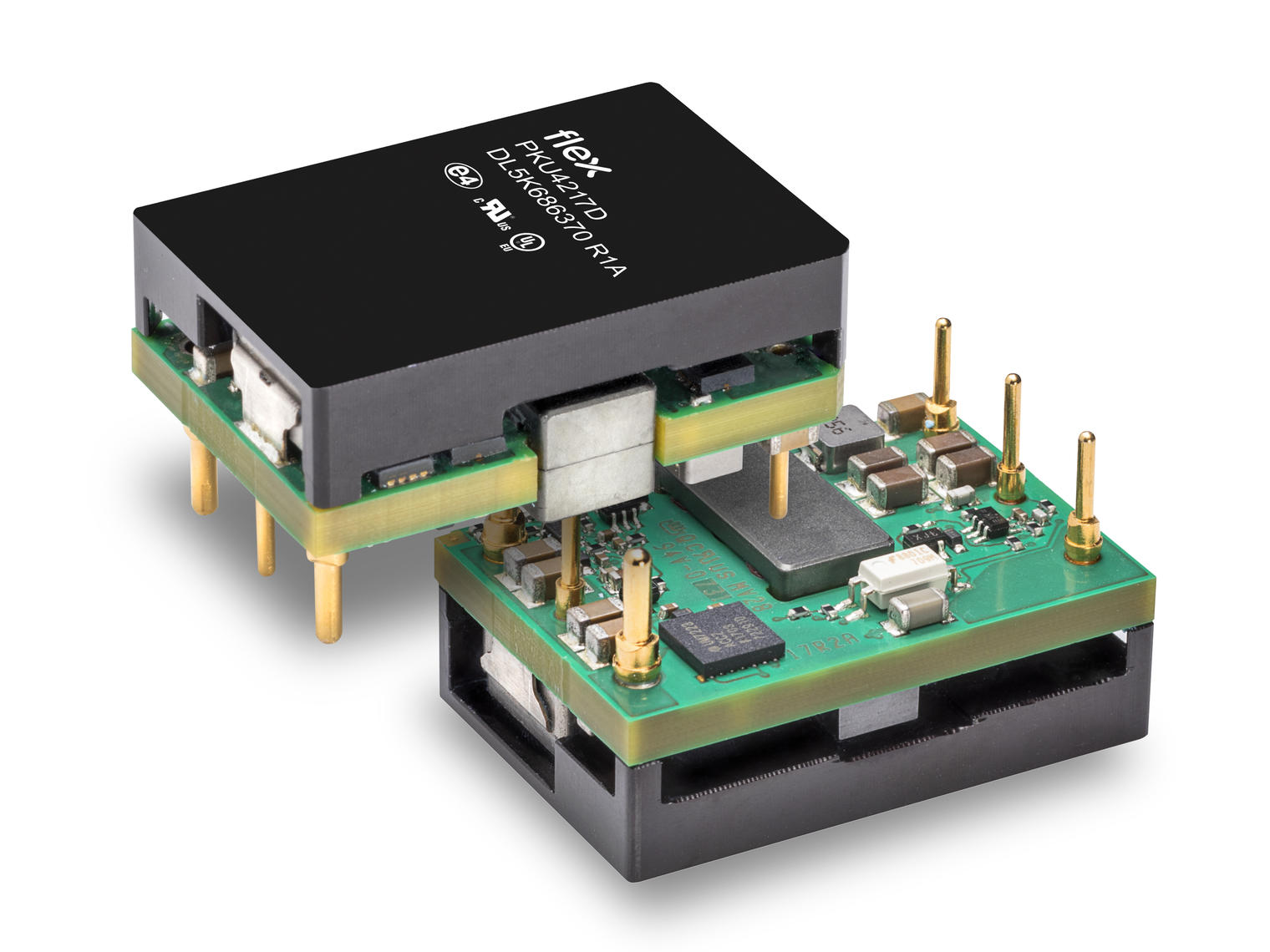 State-of-the-art power density enables sixteenth-brick module to replace eighth-brick alternatives, saving 40% in space requirements
High efficiency of typically 96.1%, saving energy and reducing cooling requirements, and thus cutting total cost of ownership (TCO)
Hybrid regulated ratio (HRR) technology used in a sixteenth-brick module for the first time
Flex Power Modules introduces the PKU4217D, the industry's first DC-DC converter in the sixteenth-brick form factor that can provide output power up to 260W, at an output voltage of 10.4V. This means it is the world's smallest converter available in the market that can deliver this level of power.
The PKU4217D is an isolated intermediate bus converter (IBC) for supplying point-of-load (PoL) regulators. It delivers market-leading power density in a compact module, making it ideal for telecoms and data communication applications that require extremely high power delivery within small footprints. For these sectors, the PKU4217D can replace existing eighth-brick converters, thus saving 40% of the space required.
The new converter has a high efficiency of typically 96.1% (at 48Vin, half load). This means it saves energy and reduces cooling requirements, thus cutting TCO. It is the industry's first converter to use HRR technology in a sixteenth-brick module, which has increased the output power achievable by around 60W, as well as increasing efficiency compared to an eighth-brick module without HRR.

Olle Hellgren, Director of Product Management and Business Development at Flex Power Modules, said: "Using proven technology based on a patent held by Flex Power Modules, the new PKU4217D is truly at the cutting edge of power density in telecoms and datacom applications – delivering valuable space savings, without compromising on efficiency. We believe the new module will help more customers follow the industry trend of changing from 12V to 10.4V to supply PoLs, which drives further efficiencies."
The module has an input voltage range of 36V to 60V, and provides isolation of 2250V, making it suitable for Power over Ethernet (PoE) applications. Power output is up to 25A or 260W, at 10.4Vout.
The PKU4217D is provided in an industry-standard low-profile sixteenth-brick form factor, measuring 33.02 x 22.86 x 11.30mm (1.3 x 0.9 x 0.44in). It is available optionally with a baseplate, or as a surface mounted device (SMD) version. The module meets safety requirements according to IEC/EN/UL 62368-1.
The PKU4217D is released and available in OEM quantities. Link to the datasheet HERE
About Flex Power Modules
Flex Power Modules, a division of Flex (NASDAQ:FLEX), designs and manufactures scalable power supply solutions that improve the operational efficiencies of advanced data center, IT information and communications networks. Flex Power Modules also offers a wide product range for the Industrial/Transportation sector. Flex Power Modules' products provide a complete onboard system solution for cloud, storage and server applications and address customer challenges while delivering superior quality, cost and performance at scale.
About Flex
Flex is the Sketch-to-Scale® solutions provider that designs and builds Intelligent Products for a Connected World™. With approximately 200,000 professionals across 30 countries, Flex provides innovative design, engineering, manufacturing, real-time supply chain insight and logistics services to companies of all sizes in various industries and end-markets. For more information, visit flex.com or follow us on Twitter @Flexintl. Flex – Live Smarter™
Contact for editorial information
Nayl D'Souza, Account Director
Contact for company information
Tuuli Waern, Technical Marketing Manager, Flex Power Modules
Share via email