Ultra-small Point of Load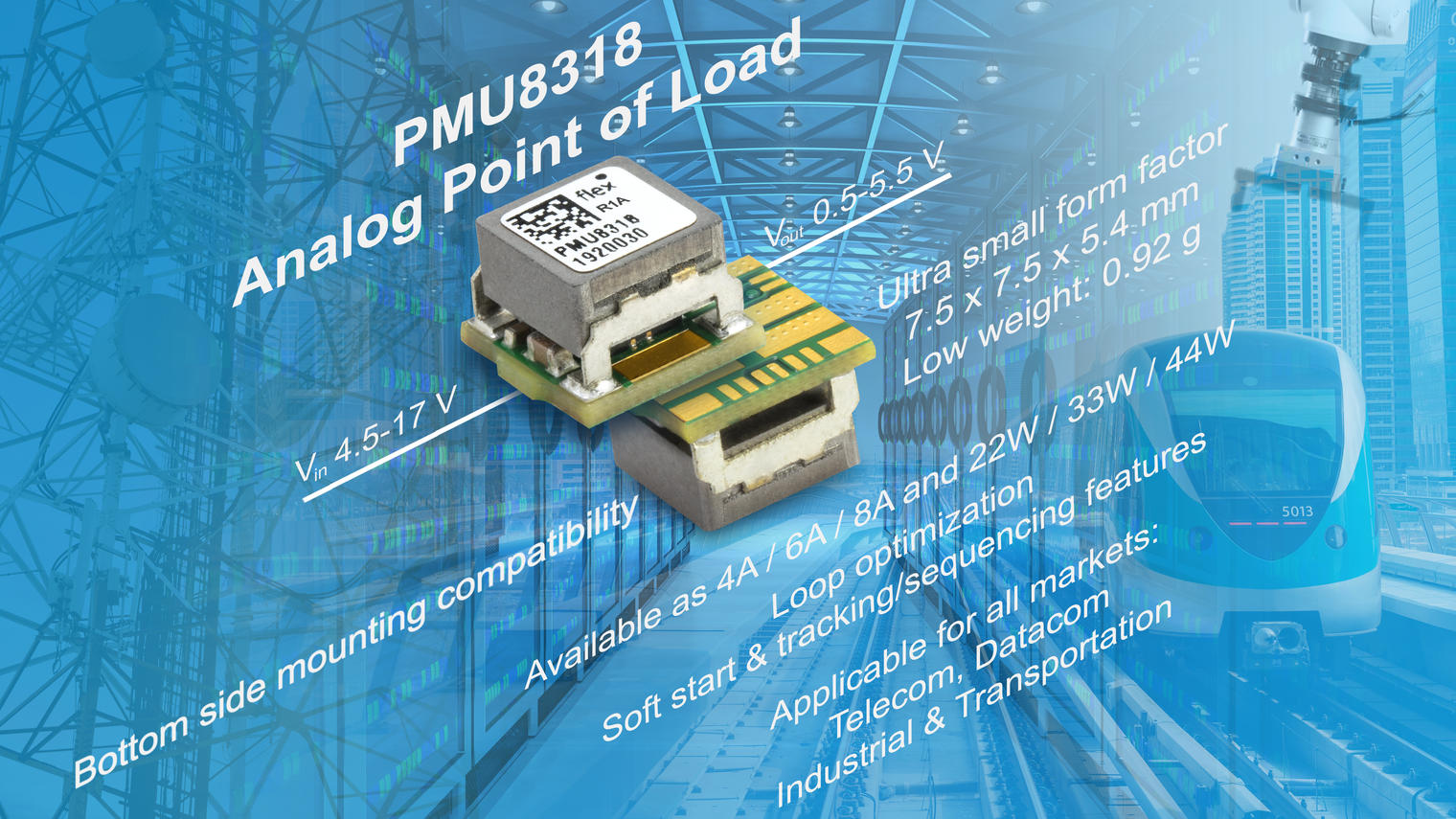 Affordable, high quality regulators deliver excellent price/performance
Flexible and straightforward design enabled by loop optimization and configurable soft start features
Tiny 7.5 x 7.5 x 5.4 mm package saves board space
High efficiency of up to typically 95.3 %, and excellent thermal performance
Flex Power Modules introduces the PMU8000 series of Point-of-Load (PoL) converters, providing an excellent price/performance ratio in a compact, low-profile package. The new regulators offer high efficiency of typically 95.3 % (at half load) and excellent thermal performance, meaning they can be used in harsh conditions.
The ultra-miniature regulators include a loop optimization feature, which enables design engineers to optimize their load transient response for different capacitive loads, thus increasing flexibility in system design. They also provide a configurable soft start or tracking feature, which makes time sequence design easier and more flexible.
To save substantial space, the regulators are provided in a very small form factor package, measuring just 7.5 x 7.5 x 5.4 mm. They support bottom side assembly, which means that a customer can utilize this design capability to make further significant space savings.
There are three variants in the new series, each offering different maximum output currents. The PMU8218 provides an output up to 4 A / 22 W, the PMU8318 up to 6 A / 33 W, and the PMU8418 up to 8 A / 44 W. Each device has an output voltage range of 0.6 V to 5.5 V, and an input voltage range of 4.5 V to 17 V.
The new PoL regulators are well-suited to a wide range of power conversion applications, including providing power for FPGAs, ASICs, Network Processors, CPUs and GPUs, across multiple sectors including ICT (telecom and datacom), industrial, test and measurement, Internet of Things (IoT), railway and medical.
Olle Hellgren, Director of Product Management and Business Development at Flex Power Modules, said: "By using automatic production processes, we have been able to achieve high quality and lower component costs for the new PMU8000 regulators – giving our customers the reliability, efficiency and affordability they demand."
The new regulators achieve exceptionally high levels of reliability with MTBF figures of up to 172 Mhrs, and meet safety requirements according to the IEC/EN/UL62368-1 standard.

Share via email