PKE-A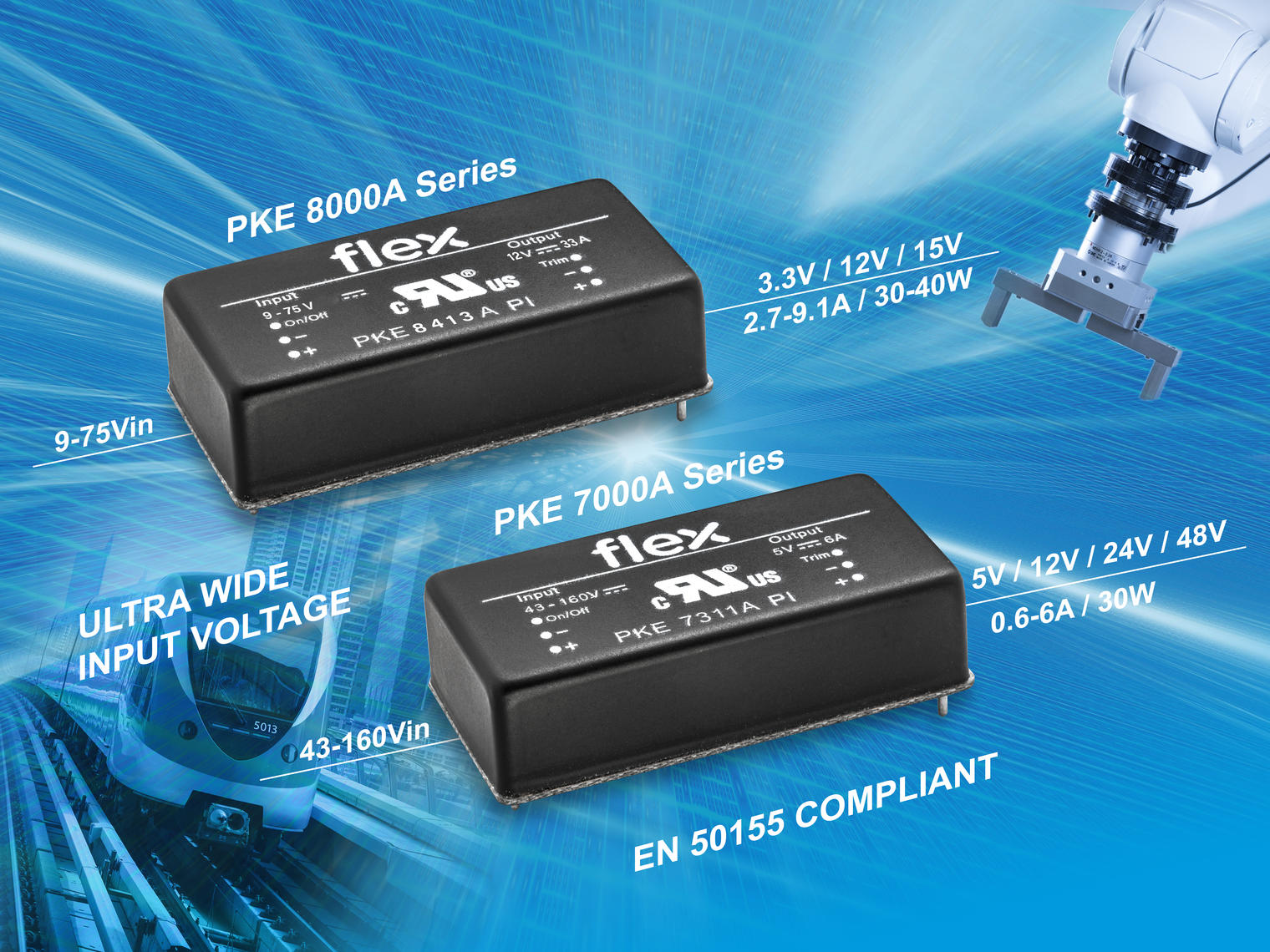 9 to 75V and 43 to 160V inputs capture wide range of applications within the Industrial and Railways markets

3.3V, 5V, 12V, 15V, 24V and 48V outputs up to 40W
Encapsulated 2 x1 in packaging for reliable operation in harsh conditions
Flex Power Modules introduces the PKE-A series of DC-DC power modules for the Industrial and Railways sectors, broadening its product range to meet increasing demand in these sectors. The modules are provided in sealed and encapsulated packaging, to ensure they will work reliably when subjected to dust, moisture, severe vibration and other harsh conditions.
For Industrial applications, the PKE8000A series provides highly reliable, high-performance and rugged DC-DC solutions in the industry-standard 2 x 1 in form factor, running from 12V, 24V or 48V supply voltages thanks to its ultra-wide-input range of 9 to 75V. Delivering up to 40W of output power at up to 91% efficiency, the series also offers mean time between failures (MTBF) of up to 4 million hours, and input-to-output isolation of 2250VDC. The devices meet the latest IEC/EN/UL62368-1 safety standards.
For Railway applications, the PKE7000A series is packaged in the same 2 x 1 in industry-standard form factor, but this time operates from a 43 to 160V input, delivering up to 30W. This makes it suitable for the majority of onboard requirements running from 72V and/or 110V nominal supplies, most commonly found in the Railways sector. The devices comply with the EN50155 railway standard and offer MTBF figures of up to 5 million hours to satisfy the most demanding applications.

Olle Hellgren, Director of Product Management and Business Development at Flex Power Modules, commented: "The PKE-A series is just one of a wide range of new products we are introducing to support Industrial and Railways applications, and is a crucial part of our previously announced push into these important market segments."
Both the PKE8000A and PKE7000A families are available now for sampling and volume production requirements.
About Flex Power Modules
Flex Power Modules, a division of Flex (NASDAQ:FLEX), designs and manufactures scalable power supply solutions that improve the operational efficiencies of advanced data center, IT information and communications networks. Flex Power Modules also offers a wide product range for the Industrial/Transportation sector. Flex Power Modules' products provide a complete onboard system solution for cloud, storage and server applications and address customer challenges while delivering superior quality, cost and performance at scale.
About Flex
Flex is the Sketch-to-Scale® solutions provider that designs and builds Intelligent Products for a Connected World™. With approximately 200,000 professionals across 30 countries, Flex provides innovative design, engineering, manufacturing, real-time supply chain insight and logistics services to companies of all sizes in various industries and end-markets. For more information, visit flex.com or follow us on Twitter @Flexintl. Flex – Live Smarter™
Contact for editorial information
Nayl D'Souza, Account Director
Contact for company information
Tuuli Waern, Technical Marketing Manager
Share via email