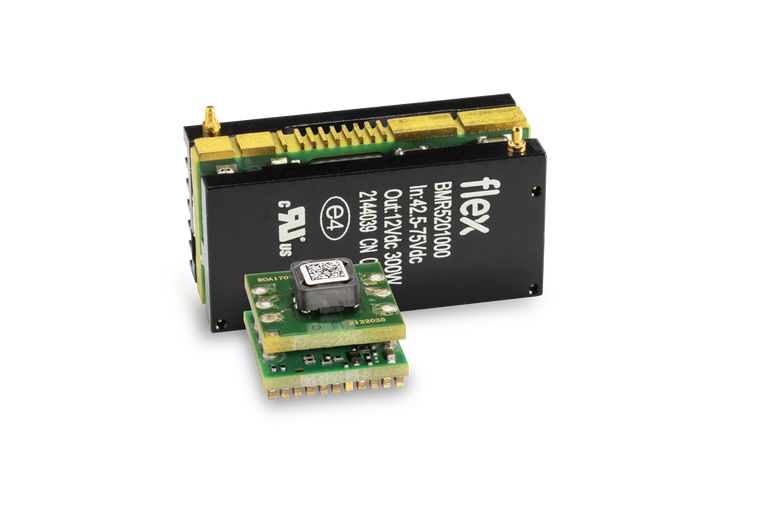 BMR520 series
300W Vertical Mount Power Blade IBC
Main Features
The BMR5201000 is an isolated Intermediate Bus Converter (IBC) housed in a vertically mounted "power blade" package which minimizes the customer board area needed for the power solution. Each surface mounted power blade delivers up to 300 W at efficiency levels of 94.9% (measured at 53Vin and full load) in a package measuring just 40mm (L) x 17.2mm (W) x 20mm (H), and up to 3 power blades can be connected in parallel to deliver up to 900W of total power in roughly the same board area required by a traditional Quarter Brick package. 1-3 power blades are supported by the external digital controller assembly (BMR5202000/001) measuring just 17 x 17 x 11.6mm, offering PMBus® compatible communications and control features.
The input voltage range is 42.5-75 V which is suitable for 48/54 V applications such as those found in Data Centers, High Performance Computing, Cloud Computing and Network Security applications for example, and the fully regulated output voltage of 12 V nominal (adjustable from 10.8-13.2 V) makes it suitable to be used to power downstream Point of Load (PoL) converters.
Key Benefits
The BMR520 offers a compact and scalable IBC solution to Flex Power Modules' customers for existing 48V systems and those transitioning from legacy 12V feeds to a 48V feed. The fully regulated, isolated output and vertical blade style packaging make it suitable for a range of applications that have limited board area available for the power solution, but where height restrictions are more flexible.
The device employs a phase shifted full bridge topology delivering efficiency levels of up to 95%, and the vertical mechanical orientation makes it possible to include integrated heatsinks on both sides of the converter which enables self contained thermal management. Isolation level is tested to 1500 Vdc, Operating Temperature is from -40°C to +125°C (hot spot temperature), and MTBF figures are as high as 19.6 Mhrs, meaning the BMR520 offers an exceptionally robust and reliable solution for the toughest of environments.

Paralleling of the converters is supported using passive Active Current Sharing (ACS), which enables up to 3 converters to be combined together to deliver higher power if required.
The BMR520 also includes configurable over-voltage, under-voltage, over-current and over-temperature protection functions. As with all Flex Power Modules' DC/DC converters, it complies with IEC/EN/UL 62368-1 safety standards.
The BMR5202000/001 controller assembly which supports the power blade(s) includes a PMBus interface for digital Configuration, Monitoring and Control, and is supported by our own Flex Power Designer tool.

Specifications
Model
V

in

V

out

P

out

I

out

Eff
Size
Mount