EN50155 compliant DC/DC converters for rail applications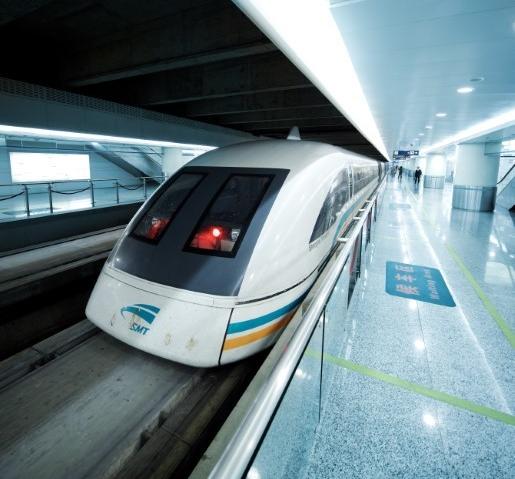 In the modern era, rail travel is faring increasingly well against competing modes of transport. For instance, in comparison with road transport there is mercifully no congestion to endure, while when set against short-haul flights, trains can speed passengers right into the center of cities. Then, of course, there is the environmental aspect, where rail travel stacks up extremely favorably against cars or aircraft. To highlight this point, the term 'flight shaming' emerged in 2019 and looks set to take hold in the public psyche moving forward. All of these factors are good news for the rail industry.
Power module technology for railway applications
The inclusion of more and more technology is elevating the value of the railway market. For instance, the latest rolling stock is nearly always fitted with advanced passenger information systems (visual and audio), as well as sophisticated lighting and HVAC units to ensure a pleasant travelling environment. Not so long ago, Wi-Fi was a rare luxury, but today it's expected. Furthermore, rolling stock increasingly offers screens mounted in the rear of seat headrests, providing entertainment on demand and another potential revenue stream for operators.
Of course, the latest technology can be just as useful for operators as it is for passengers. The growing use of sensors, for example, makes it easy to measure parameters such as lateral carriage vibration and the temperature of bearings, in turn facilitating the implementation of preventative and predictive maintenance strategies. What's more, the data collected from sensors can be sent in real time to track-side receivers. This information is also fed into the train's 'black box' as a way of logging journey records. In short, train control and management systems (TCMSs) permit all sensing functionality to be networked, delivering not only higher levels of sophistication, but redundancy and compliance with safety integration levels (SILs).
Typically, TCMSs are modular in structure, housing multiple PCBs that permit configuration in line with specific application requirements. Design modularity proffers the use of telecom-type distributed power architectures (DPAs) based on power modules. Likewise, power modules are used for several other rolling stock technologies, and can often be found under seats or in corridor cabinets.
Meeting the required standards
It goes without saying that suppliers of components and systems for use on rolling stock have to deliver safe and reliable solutions, often in accordance with demanding international standards. However, rail travel is not kind to technology, which means that robust and rugged products must be deployed to avert any potential for premature failure.
In recent times there have been significant efforts to harmonize standards at a European level, which has led to the emergence of various regulations commonly in use today. The most established is EN50155, which address the requirements for all types of electronic devices found in railway rolling stock. To provide a brief overview, the principal considerations for power modules (including DC-DC converters) are referenced in categories that set out requirements relating to input voltage, electromagnetic compatibility (EMC/EMI), mechanical/physical characteristics, temperature and humidity, and electrical isolation.
Individual requirements
The input voltage requirements referenced in EN50155 are intended to address the fluctuations of power sources used in rail applications, along with the presence of spikes and other unwanted supply disturbances. When equipment is powered directly from a battery without any regulation, correct and safe operation is required for voltages ranging from 70% to 125% of the nominal input voltage (VN). It is also worth mentioning that dropouts as low as 60% of VN for 100 ms, and surge over-voltages up to 140% of VN for one second, often occur when equipment powers up.
EN50155 additionally requires 50 ms transients up to 1,800 V to be addressed, which is most frequently achieved using a transient voltage suppressor (TVS) with the capability to suppress up to 1.5 J of energy. Notably, the TVS must have a clamping voltage that is compatible with the DC/DC converter module.
Although most national standards are harmonized with EN50155, there are – frustratingly – a few rogues in the pack. For instance, the UK's RIA12 standard differs with regard to surge protection, stating that equipment must withstand an over-voltage of 3.5 VN for up to 20 ms, which is beyond the capabilities of a TVS. As a result, an active external circuit is required for protection in UK applications.
Railways are also a challenging environment when it comes to electromagnetic compatibility. Overhead cable voltages, on-board transformers, high-power motors, and passenger smartphones and laptops can all emit EMI. For this reason, EN50155 addresses EMC requirements via references to EN50121-3-2, which sets out limits for both radiated and conducted EMI. In most general applications, these requirements can be met through the use of an external EMI filter.
So what of the physical requirements? Well, vibration during train travel is almost constant, which can lead to mechanical fatigue. What's more, shocks of up to 5G can be experienced when passenger-less rolling stock is shunted. EN 61373 specifically addresses the mechanical requirements for electronic equipment (including power modules) used in railway applications. The standard recognizes that the positioning of equipment (in/on the body, bogie or axle) will lead to different levels of mechanical stress, which is why four classes have been defined. Typically, power modules are installed inside the body and fall into Class 1A or 1B. Class 2 is for bogie-mounted devices, while Class 3 covers equipment mounted on an axle.
The location of electronic equipment behind panels or in spaces under seats has a notable drawback – temperature rises in confined spaces. Similar to physical requirements, operating temperatures are therefore segmented into four classes, along with a need for a 10-minute over-temperature of +15°C, which presents yet another challenge for power systems.
With regard to humidity, EN50155 requires power modules to be tested for 30 days at 95% Relative humidity (RH). However, as a word of caution, these parameters vary at some national levels, specifically those in France and the UK.
The last key electrical requirement is isolation between input and output, which is defined by EN50155 in line with the nominal input voltage. It should be noted again that the requirements in France differ, and are in fact somewhat more stringent.
Engineers can of course consult manufacturer data sheets for evidence of compliance with the relevant standards. However, as a point of note, because standards are subject to periodic review, such as the fairly significant update to EN50155 in 2017, engineers should always ensure that devices like power modules are compliant with the latest version. In the case of EN50155, this also includes all of the standards it references. Such a task can appear daunting, which is why approaching a reputable supply of power module technology will pay dividends in terms of advice and guidance.
Market potential
The rewards for getting it right when it comes to power module selection are plain to see. China is the world's largest national market for rail industry technology. Specialist transportation research company SCI Verkehr GmbH recently put the size of the market at EUR 33 billion. And although this figure is set to contract slightly over the coming five years, it's still extremely eye-catching.
In Western Europe, the market is estimated at EUR 45.6 billion, demonstrating growth of 3.8% (CAGR). The largest national market in this region is Germany, at EUR 11 billion, placing it in the world's top five, alongside China, USA, Russia and France.
By selecting solutions from reputed suppliers such as Flex Power Modules, manufacturers can rest assured of acquiring technology that is highly suitable for use in rolling stock applications, standing them in good stead to capture market share.
Spanning power output from 1.65 to 300 W, several device families are available that provide compliance with EN50155. The range comprises both fully encapsulated and open-frame solutions, and offers various configurations that include single and dual output. Importantly, ultra-wide input ranges (9 to 75 V, and 43 to 160 V) provide design flexibility and compliance with the input voltage requirements of EN50155.
Latest EN50155 compliant DC/DC solutions
The recently introduced PKE-A series of DC/DC power modules includes the PKE7000A devices that occupy an industry-standard 2 x 1-inch form factor. These power modules offer a 43 to 160 V input range, allowing use with either 72 or 110 V nominal rails, both of which are commonplace. Delivering power up to 30 W, PKE7000A devices are EN50155 compliant and offer impressive mean time before failure (MTBF) figures of up to 5 million hours, even in demanding applications.
Flex has recently introduced the PKJ7200 and PKJ7300 series of power modules. These devices are specifically designed to offer a high performance-to-price ratio in a compact half-brick package that saves on space. High efficiency of up to 92% helps to reduce power dissipation, while a wide input voltage range and comprehensive input/output protection increase reliability in harsh environments.
A further innovation in the spotlight will be the PKM7500W and PKM7100W DC-DC converters, two of the company's latest quarter-brick modules, which have an ultra-wide input voltage range from 12 to 160 V. As a result, manufacturers can standardize on a single design, simplifying installation, qualification and support. Importantly, the modules are fully encapsulated to improve reliability, while input and output protection prevents damage to converters and powered devices.
This range of EN50155 compliant DC/DC converters all complement the original PKM-A series of 100-150 W quarter brick modules designed for the Rail industry.
Ultimately, while today's passengers take the quality of their rail journeys for granted, engineers should not do the same with their power modules. Only by carefully considering the suitability of a power module for its use in rolling stock applications – and its conformance to the relevant standards – can success be assured.

Share via email