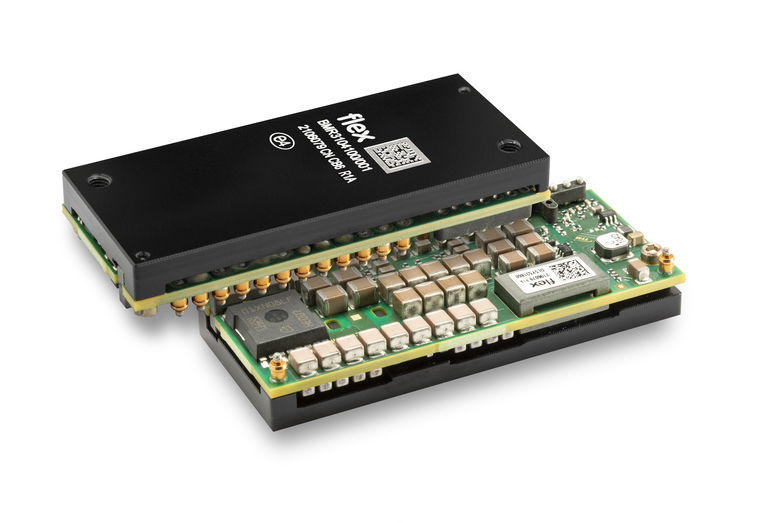 BMR310 series
860-1000 W Non-Isolated Digital Intermediate Bus Converter
Main Features
The BMR310 is a non-isolated digital Intermediate Bus Converter (IBC) based on a proprietary Zero voltage switching Switched capacitor Converter (ZSC) technology. The device delivers up to 860 W of continuous power at efficiency levels of >98% (measured at half load) in an extremely compact package measuring just 58.4 x 25 x 9.9 mm, which includes an integrated baseplate enabling simplified conduction cooling to the customers' heatsink or cold plate. Peak power delivery of up to 1000 W is also possible for short durations (<1s).
The input voltage range is 40-60 V which is suitable for 48/53 V applications such as those found in Data Centers, High Performance Computing and Cloud Computing applications for example, and the unregulated output voltage of 10-15 V makes it suitable to be used to power downstream Point of Load (PoL) converters and integrated power stages such as the BMR510.
Key Benefits
The BMR310 offers additional solutions to Flex Power Modules' customers when it comes to choosing an IBC for systems transitioning from legacy 12V feeds to a 48V feed. Using capacitive energy transfer with soft-switching of the power devices enables a much smaller footprint and lower height profile, and in addition to the initial version which includes a baseplate measuring just 9.9mm tall, future versions will include an open frame design, significantly reducing the overall height of the IBC still further.
Paralleling of the converters is supported using passive Droop Load Sharing (DLS), which enables multiple converters to be combined together to deliver higher power if required.
The BMR310 also includes over-voltage, under-voltage, over-current and over-temperature protection functions. As with all Flex Power Modules' DC/DC converters, it complies with IEC/EN/UL 62368-1 safety standards.
The BMR310 includes a PMBus® interface for digital Configuration, Monitoring and Control, and is supported by our own Flex Power Designer tool.
The BMR310 will be available in Q4 2021, and samples are available now. Customers can obtain further information by contacting pm.info@flex.com.
Specifications
Model
V

in

V

out

P

out

I

out

Eff
Size
Mount