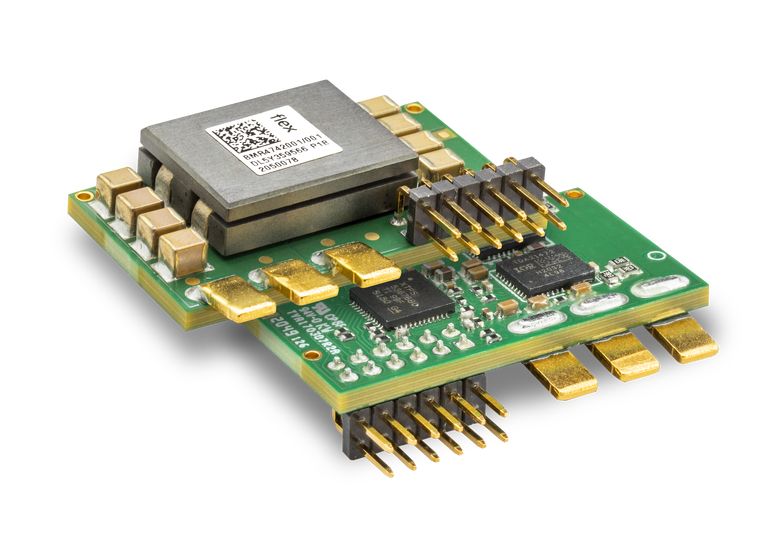 BMR474 series
80 A Non-Isolated Digital POL Regulator in a SIP package
The BMR474 series is a SIP (Single Inline Package) non-isolated digital DC/DC PoL (Point of Load) regulator that offers exceptional levels of power density for today's most demanding applications.
Delivering up to 80 A at output voltages of up to 1.8 V, and 60 A from 1.8 V to 3.3 V (198 W max), the total output voltage adjust range is from 0.6 V to 3.3 V, and the input voltage range is from 6 V to 15 V. This wide input range makes it suitable to be fed by fixed ratio intermediate bus converters which can deliver up to 15 V when being fed by a 60 V supply (4:1 ratio).
Efficiency levels of up to 95.1% at 12Vin. 3.3Vout, 100% load are achieved, and high reliability is guaranteed with MTBF figures of more than 23 Mhrs.
An advanced off-time control algorithm is employed to deliver excellent load transient response. As an example, a 50% load step at 2 A/µs results in a transient voltage of just ±30 mV.
The vertically mounted SIP package makes the device particularly suitable for applications where board space is at a premium, taking up a footprint of just 2.84 cm2.
To aid cooling in extreme temperature conditions, the BMR474 is also available pre-fitted with a heatsink as an option.
The BMR474 includes a PMBus® interface for digital Configuration, Monitoring and Control, and is supported by our own Flex Power Designer tool.
Specifications
Model
V

in

V

out

P

out

I

out

Eff
Size
Mount