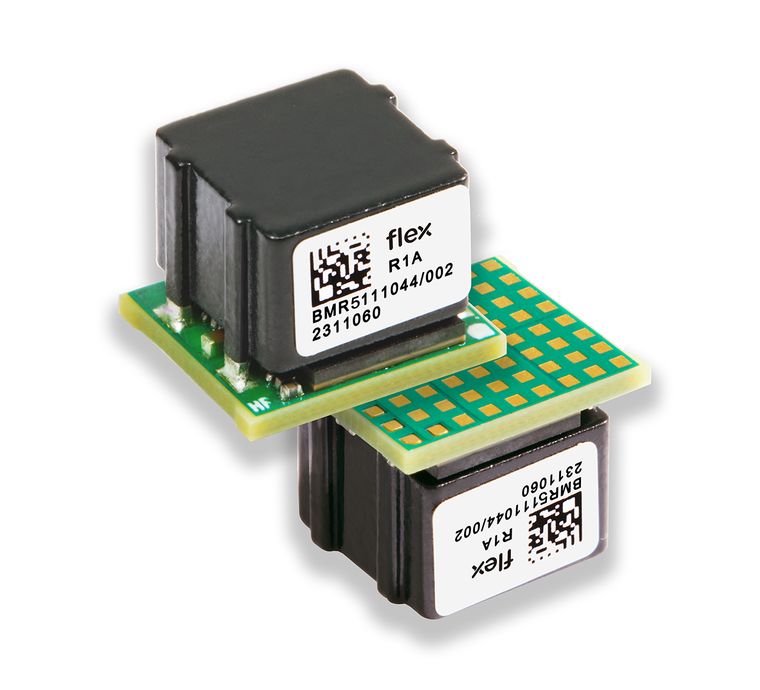 BMR511 series
2-phase integrated power stage up to 140 A peak
The BMR511 is a 2-phase integrated power stage which delivers a continuous total output current of 40 A per phase or 80 A total, and is capable of delivering a total peak output current of up to 140 A at an output voltage of 0.5-1.8 V. The input voltage range is 5-15 V, which makes it compatible with 4:1 conversion ratio front-end IBCs. The device delivers an efficiency of 92% at 12 V input / 0.75 V output / 30 A load.
At 0.72 cm3 (10 x 9 x 8 mm) the module provides a complete power stage including magnetics for a highly-specified VRM solution in space-constrained applications. Target end-use is to power silicon devices such as CPUs, GPUs, IPUs, high-end FPGAs and high-performing ASICs with a current demand of over 100 A, commonly found in the latest AI applications.
The halogen-free BMR511 is optimized for bottom-side cooling with an "inductor on top" design, and features LGA or optional solder-bump terminations for easy assembly. Over-temperature and over-current protection are included, and values are sensed for remote monitoring. An enable input is provided, and the module will accept tri-state PWM inputs supplied from an external controller.
Thermal models are available for the part to enable effective integration in the target application.

Specifications
Model
V

in

V

out

P

out

I

out

Eff
Size
Mount