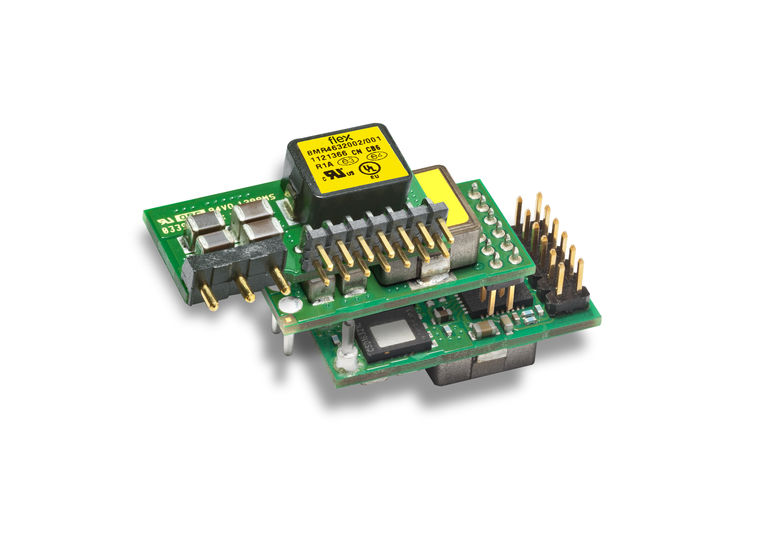 BMR463 series
20-25A Non-Isolated Digital DC/DC PoL Regulator
The BMR463 series is a digital non-isolated DC/DC PoL regulator in a 25.65mm x 13.8mm package (horizontal mount variant). They offer a Vout range between 0.6-3.3V and a wide Vin range from 4.5-14V. It's typically used in Intermediate Bus Architectures found in industrial, telecom and datacom applications.
These converters can deliver up to 25A and have a high efficiency up to 97.1% typical at 5Vin / 3.3Vout / 50% load. They are available for both horizontal mount orientation (both SMD & PTH) and vertical mount SIP orientation.
The BMR463 series shows MTBF of up to 20 million hours.
Standard features for this model include configuration, control and monitoring via PMBus, user configurable compensation of the feedback loop, frequency synchronization, phase spreading/interleaving, voltage tracking and voltage margining.
The BMR463 is supported by our own Flex Power Designer tool.
Evaluation of the BMR463 SIP modules can be performed using the ROA1285068 Eval Board, while for the horizontal mount versions use the ROA1283836 Eval Board.
Specifications
Model
V

in

V

out

P

out

I

out

Eff
Size
Mount